Bearing internal clearance

Bearing internal clearance (
fig. 1
) is defined as the total distance through which one bearing ring can be moved relative to the other in the radial direction (radial internal clearance) or in the axial direction (axial internal clearance).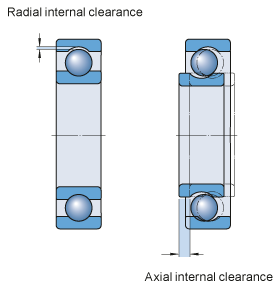 It is necessary to distinguish between initial internal clearance in the bearing prior to mounting and operating internal clearance, which applies to a bearing in operation that has reached a stable temperature.
In almost all applications, the initial clearance in a bearing is greater than its operating clearance. The difference can be attributed to the need for an interference fit on the shaft and/or in the housing, combined with thermal expansion of the bearing rings and mating components.
Sufficient internal clearance in a bearing during operation is extremely important if the bearing is to operate satisfactorily. As a general rule, ball bearings should have an operating clearance (or preload) that is virtually zero. Cylindrical, needle, spherical and CARB toroidal roller bearings, on the other hand, should always have some residual (radial) clearance – however small – in operation. The same is true for tapered roller and angular contact ball bearings. However, in applications where a high degree of stiffness is required, tapered roller and angular contact ball bearings can be mounted with a certain amount of preload (→
Bearing preload
).
The initial internal clearance referred to as Normal implies that a suitable operating clearance can be obtained if the recommended shaft and housing fits are realized during mounting and operating conditions are normal. Where operating and mounting conditions differ from normal, for example, when interference fits are used for both bearing rings or considerable temperature differences prevail, bearings with greater or smaller internal clearance than Normal are required. In these cases, SKF recommends checking residual (radial) clearance in the bearing after it has been mounted.
Bearings with an internal clearance other than Normal are identified by the suffixes C1 to C5.
Suffix

Internal clearance

C1

Smaller than C2

C2

Smaller than Normal

CN

Normal, only used together with an additional
letter that identifies a reduced or displaced
clearance range.

C3

Greater than Normal

C4

Greater than C3
C5

Greater than C4

The clearance values for the various bearing types are listed in the relevant product sections and are valid for unmounted bearings. For paired (universally matchable) single row angular contact ball bearings and tapered roller bearings, double row angular contact ball bearings and four-point contact ball bearings, values for the axial internal clearance are listed instead of radial clearance, as the axial clearance is of greater importance for these bearing types.