Sealing solutions

Some self-aligning ball bearings in the 22 and 23 series are also available with seals (
fig. 1
).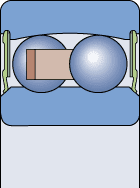 Sealed bearings have a contact seal on both sides that is made of oil and wear-resistant NBR and reinforced with a sheet steel insert (designation suffix 2RS1).
Sealed bearings are lubricated for the life of the bearing and should not be washed or relubricated. The bearings are considered virtually maintenance-free. If they are to be hot mounted, SKF does not recommend heating the bearings above 80 °C (175 °F).
Greases for sealed bearings
Depending on their outside diameter, sealed bearings are filled with one of the two greases listed in
table 1
. Both have good corrosion inhibiting properties.