Unit design
SKF motor encoder units (
fig 1
) consist of
an SKF Explorer deep groove ball bearing with a RS1 contact seal and a snap ring groove in the outside surface of the outer ring (a)

a magnetized impulse ring (b)

a sensor body (c)

a connecting cable (d).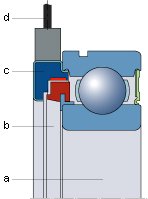 On the side opposite to the seal, the impulse ring and sensor body form an effective labyrinth seal.
The impulse ring is a composite, magnetized ring. The number of north and south poles (between 32 and 80) depends on the bearing size. The impulse ring is attached to the inner ring.
The sensor body protecting two embedded Hall cells is attached to the outer ring - a patented SKF solution. The multi-wire cable extends in the radial direction, connecting the motor encoder unit and the signal processing electronics and has a standard length of approximately 500 mm. To account for the different interface requirements, SKF can provide customized solutions with the connector and cable length that best fits the application. For additional information, contact the SKF application engineering service.