Grease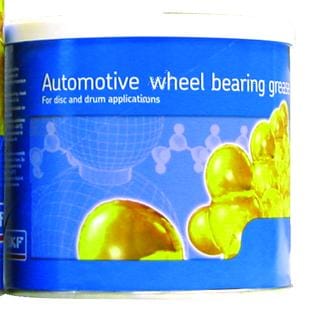 SKF grease is specifically formulated for automotive and light to medium-duty truck disc and drum brake wheel bearings, chassis suspension and universal joint applications. It also can be used for general use in agricultural equipment.
Certified by ASTM (American Society for Testing Materials) and NLGI (National Lubrication Grease Institute) in both the chassis grease category (NLGI LB) and wheel bearing grease category (NLGI GC), SKF grease ensures high film strength, extreme pressure (EP) and anti-wear and water-resistant properties.
Additionally, antioxidants and corrosion inhibitors provide extra stability under storage and extreme service conditions. The typical operating temperature range is -40°F and +325°F (-40°C and +164°C).
Tapered bearing packer
The SKF tapered bearing packer, part number BP270, is applicable for all cars, light and medium-duty truck bearings. It is designed to do a professional job while maintaining a clean operating environment, which is essential for optimized bearing life. The tapered bearing packer enables a quick and thorough removal of old grease and proper installation of new grease. Additionally, the packer comes with grease savers for larger bearings, as well as complete instructions.
Additional features and benefits include:
No air hose necessary

Packs 50-65 bearings with one filling

Cup is manufactured from impact-resistant, transparent lexan

Includes dust cover