Integral bearing seals
SKF supplies several bearing types fitted with shields or contact seals on one or both sides. These provide an economic and space-saving solution to many sealing problems. Bearings with shields or seals on both sides are supplied already greased and are generally maintenance-free. Actual seal designs are described in detail in the introductory text to the relevant bearing table sections.
Bearings with shields
Bearings fitted with shields (
fig 1
), are used for arrangements where contamination is not heavy and where there is no danger of water, steam etc. coming into contact with the bearing. Shields are also used in applications where reduced friction is important due to speed or operating temperature considerations.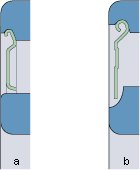 Bearings with contact seals
Bearings with contact seals, referred to simply as seals are preferred for arrangements were contamination is moderate and where the presence of moisture or water spray etc. cannot be ruled out, or where a long service life without maintenance is required.
SKF has developed a series of seals (
fig 2
). Depending on the bearing type and/or size the bearings may be equipped with standard seals that seal against
the inner ring shoulder (a) and/or against a recess in the inner ring shoulder (b, c), or

the lead-in at the sides of the inner ring raceway (d, e) or the outer ring (f).

For deep groove ball bearings SKF has developed two additional seal types (
fig 3
), referred to as
the low-friction seal (a, b, c), which is practically without contact and fulfils high demands on sealing and the low-friction operation of the bearing

the spring-loaded radial shaft Waveseal® (d), which is incorporated on one side and together with the bearing, form the ICOS oil sealed bearing unit.

Seals integrated in SKF bearings are generally made of elastomer materials and reinforced by sheet steel. Depending on the series, size and the application requirements, the seals are generally produced from
acrylonitrile-butadiene rubber (NBR)

hydrogenated acrylonitrile-butadiene rubber (HNBR)

fluoro rubber (FKM)

polyurethane (AU).