SKF Food Line Y-bearing units
Offer the potential for a relubrication-free solution for most wet, abrasive and contaminating environments
The cycle of washdowns and lubricant washout in food and beverage manufacturing creates a never-ending cycle of waste. It is common to relubricate bearings after each washdown – daily, weekly or at other intervals based on production specifics. During this process, excess grease is discharged past the bearing seals (purged). At the next washdown cycle, the grease is washed away and into the plant's waste water.
Because they can withstand frequent washdowns without relubrication, SKF Food Line Y-bearing units can eliminate the need for relubrication, grease disposal and concern about environmental impact.
SKF offers a solution, with a complete assortment of SKF Food Line Y-bearing units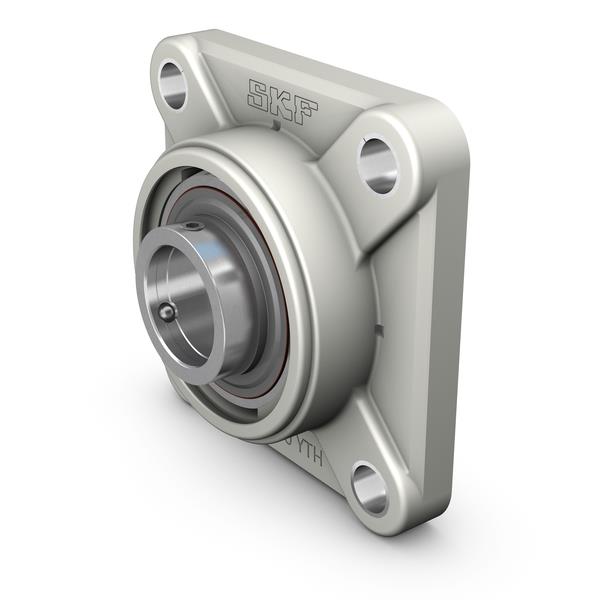 Innovative SKF Food Line Y-bearing unit designs help to eliminate the washdown related problems of corrosion, premature bearing failure and environmental impact.
Benefits include
Increased productivity by eliminating relubrication downtime

Improved foreign body prevention – no dripping grease or purge contamination

Reduced grease use and environmental impact

Elimination of the risk that a missed relubrication point might cause a subsequent bearing failure

Corrosion-resistant under virtually all washdown conditions

Improved bacteria elimination due to solid or filled base design and smooth surface finish

Wide dimensional range (plus availability in metric and inch sizes)
A choice of bearing unit designs
SKF Food Line Y-bearing units are available in a range of component designs. This enables the configuration of the bearing unit best suited for various applications and environments.
The new SKF Food Line Y-bearing unit range includes:
Corrosion-resistant insert bearings

Food-grade grease

High-performance seals consisting of stainless steel made inserts and FDA approved rubber compound

Effective end covers

Two different housing materials

Composite, strong, lightweight and chemically resistant with stainless steel lined mounting bolt holes and either a "moulded in" steel coil reinforced bore1) or a massive design2)

Cast stainless steel for heavy-duty applications
1) Applies to plummer block housings SYWK .. Y, four-bolt flanged housings FYWK .. Y and two bolt flanged housings FYTWK .. Y
2) Applies to housings SYWK .. L, FYWK .. L, FYTWK .. L, SYFWK .. L, FYAWK .. L, TUWK .. L
Sealing system and high-quality food-grade grease
Highly effective at resisting contamination and retaining lubricant
All SKF Food Line Y-bearing units incorporate SKF's unique multiple seals (designation suffix -2RF, Sealing solutions), that are highly effective at keeping detergent, water and other contaminants out of the bearing cavity and keeping lubricant inside.
Multiple barrier protection provides long bearing service life
The SKF multiple seal arrangement is proven to be highly effective during washdowns. It consists of a combination of a radial and an axial lip seal each protected by narrow gap seals.
Food compatible seal materials
Both the radial and axial lip seals are made of an FDA approved rubber compound.

The space between the radial and axial lip seals and the flinger is filled with SKF food-grade NSF registered grease.
High-quality, NSF H1 registered grease
Each SKF Food Line Y-bearing unit is prelubricated with SKF GFJ food-grade grease.
This high quality grease is registered by NSF as a category H1 (lubricant acceptable with incidental food contact for use in and around food processing areas). The NSF registration confirms it fulfills the requirements listed in the US Food and Drug Administration's guidelines under 21 CFR section 178 3570.
Extends bearing service life
SKF GFJ food-grade grease is a highly effective bearing lubricant that offers advantages that help extend service life, including:
Excellent corrosion protection

High aging resistance
Additional information
For additional information about Y-bearing units depending on the housing shape, refer to: