Abutment and fillet dimensions

The dimensions of components adjacent to a bearing (such as shaft and housing shoulders, spacer sleeves) must be able to provide sufficient support for the bearing rings. However, there must not be any contact between the rotating parts of the bearing and a stationary adjacent component. Appropriate abutment and fillet dimensions are listed in the product tables.
The transition between the bearing seat and shaft or housing shoulder can be a fillet in accordance with the dimensions ra and rb in the product tables, or an undercut (
table 1
). As the fillet radius increases, the stress distribution in the fillet area improves. Therefore, heavily loaded shafts, which typically require a larger radius, use a spacing collar between the inner ring and shaft shoulder to provide a sufficiently large support surface for the bearing ring. The side of the collar that abuts the shaft shoulder should be designed so that it does not contact the fillet (
fig. 1
).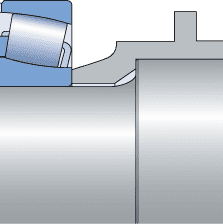 CARB toroidal roller bearings
CARB toroidal roller bearings can accommodate axial displacement of the shaft within the bearing. To be sure that displacement of the shaft relative to the housing can occur, sufficient space C
a
must be provided on both sides of the bearing (
fig. 2
).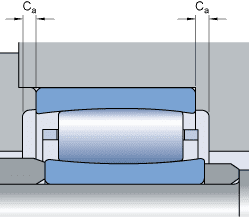 For additional information, refer to CARB toroidal roller bearings.