Floating bearing system

Like an adjusted bearing system, a floating bearing system is also cross-locating. However, a floating bearing system is more suitable for applications where axial stability of the shaft is less demanding or where other components on the shaft locate it axially. Suitable bearings for this system are:
deep groove ball bearings (fig. 1)

self-aligning ball bearings

spherical roller bearings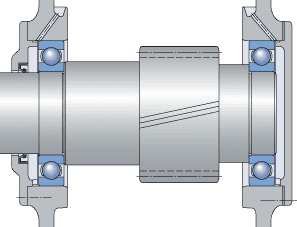 In this system, it is important that one ring of each bearing, preferably the outer ring, is able to move axially on its seat. A floating bearing system can also be obtained with two NJ design cylindrical roller bearings used in mirrored arrangements with offset rings (
fig. 2
). In this case, axial displacement can occur within the bearings.