Axial displacement
Shafts, or other rotating machine components, are generally supported by a locating and a non-locating bearing, see section
Locating bearings provide axial location for the machine component in both directions. The most suitable bearings for this are those that can accommodate combined loads, or can provide axial guidance in combination with a second bearing, see
matrix
.
Non-locating bearings must permit shaft movement in the axial direction, so that the bearings are not overloaded when, for example, thermal expansion of the shaft occurs. The most suitable bearings for the non-locating position include needle roller bearings and NU and N design cylindrical roller bearings (
fig 1
). NJ design cylindrical roller bearings and some full complement design cylindrical roller bearings can also be used.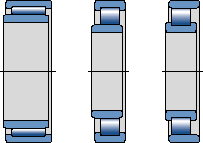 In applications where the required axial displacement is relatively large and also the shaft may be misaligned, a CARB toroidal roller bearing is the best choice as non-locating bearing (
fig 2
).

All of these bearings permit axial displacement of the shaft with respect to the housing within the bearing. Values for the permissible axial displacement within the bearing are provided in the relevant product tables.
If non-separable bearings, e.g. deep groove ball bearings or spherical roller bearings (
fig 3
) are used as non-locating bearings, one of the bearing rings must have a loose fit, see section