Designs and variants

SKF standard assortment
The assortment of SKF spherical roller bearings is the widest available on the market. The standard assortment includes:
CC, CA and E design bearings

sealed bearings

bearings for vibratory applications

bearings for wind energy applications
All SKF spherical roller bearings are SKF Explorer bearings and almost all bearings are available with the option of a tapered bore. Depending on the bearing series, the tapered bore has:
a taper 1:12 (designation suffix K)

a taper 1:30 (designation suffix K30)
For sizes and variants not listed in the product table, contact SKF.
Bearings for vibratory applications
are available in the 223 series

are available with a cylindrical or tapered bore

have C4 radial internal clearance as standard

are equipped with an annular groove and three lubrication holes in the outer ring

are available with a PTFE coated cylindrical bore (designation suffix VA406), which prevents fretting corrosion between the shaft and the bearing bore, for shaft thermal elongation in non-locating bearing positions that have a rotating outer ring load. Therefore, shafts do not require special heat treatments or coatings.

are manufactured to one of the following designs:

E/VA405 bearings (fig. 7) have two surface-hardened stamped window-type steel cages, an inner ring without flanges and a guide ring centred on the inner ring or on the cages
Acceleration
Vibratory applications induce accelerations of the rollers and cages in the bearings. This puts extra demands on the bearing design. SKF spherical roller bearings for vibratory applications can withstand considerably higher accelerations than corresponding standard bearings. The permissible acceleration depends on the lubricant and the mode of acceleration.
Mode 1

The bearing is subjected to a rotating outer ring load in combination with a rotating acceleration field, or an internally induced angular acceleration field due to rapid speed variations. These accelerations cause the unloaded rollers to generate cyclic loads on the cages. Examples: vibrating screens (fig. 10), exciters, planetary gears and general arrangements subjected to rapid starts or rapid speed variations.


Mode 2

The bearing is subjected to impact loads, which generate a linear acceleration in a constant radial direction, causing the unloaded rollers to "hammer" the cage pockets. Example: acceleration generated when rail wheels roll over rail joints (fig. 11).
Road rollers, where the roller is vibrating against a relatively hard surface, are subjected to a combination of mode 1 and 2 acceleration. Values for the permissible acceleration are listed in the
product table
and are valid for oil lubricated bearings. The values are expressed in multiples of g, where g is the acceleration of gravity (g = 9,81 m/s
2
).
System solutions for vibrating screens
In addition to single bearings for vibrating screens, SKF has developed fault detection and bearing arrangements that can improve performance, reduce maintenance and monitor machine condition in vibratory equipment.
WARNING
PTFE coatings exposed to an open flame or temperatures above 300 °C (570 °F) are a health and environmental hazard! They remain dangerous even after they have cooled.
Read and follow the safety precautions under this WARNING.
Bearings for wind energy applications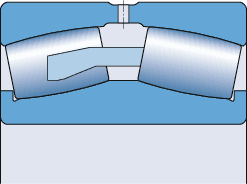 are available in the 240 series, from d ≥ 530 mm

are designed explicitly for wind turbine main shafts

have an optimized internal geometry with large diameter rollers and increased contact angle for increased axial load carrying capacity (fig. 12)

have a roller-guided cast iron cage for increased robustness

have no guide ring

have a wide outer ring lubrication groove and six lubrication holes

are indicated in the product table by the designation suffix BC
Customized bearings
SKF can customize bearings to meet the needs of applications where the bearings are subjected to unique operating conditions. For example, bearings for:
printing presses, paper mills or high-precision coating systems

very arduous operating conditions, e.g.continuous casters

bearings for high-speed applications

mounting with loose fit on roll necks

railway vehicles
Bearings for high-speed applications
have 50% higher limiting speeds than standard bearings

are available in the 223, 232, 240 and 241 series in a special execution

are identified by the designation suffix VA991

address a market need in multi-megawatt industrial gearboxes
For additional information about application-specific spherical roller bearings, contact SKF.