Bearings with contact seals
Bearings with contact seals, designation suffixes RSH, 2RSH or RS1, 2RS1, are manufactured in four designs depending on bearing series and size (
fig 1
)
bearings in the 60, 62, and 63 series up to 25 mm outside diameter are equipped with RSH seals to design (a)

bearings in the 60, 62, and 63 series from 25 mm and up to and including 52 mm are equipped with RSH seals to design (b)

other bearings have RS1 seals, which seal against the cylindrical surface of the inner ring shoulder (c) indicated by diameter d1 in the product table or against a recess in the inner ring side face (d) indicated by dimension d2 in the product table.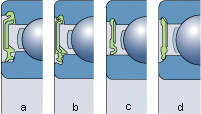 The seals are inserted in recesses in the outer ring and provide good sealing at this position without deforming the outer ring. Standard seals are made of acrylonitrile-butadiene rubber (NBR) with a sheet steel reinforcement. The permissible operating temperature range for these seals is –40 to +100 °C and up to +120 °C for brief periods.
When sealed bearings are operated under certain extreme conditions, e.g. very high speeds or high temperatures, grease leakage may occur at the inner ring. For bearing arrangements where this would be detrimental, special design steps must be undertaken, please consult the SKF application engineering service.
Details regarding the suitability of RSH and RS1 seals for various operating conditions will be found in
table
.