Lubrication
Grease lubrication
Grease lubrication is normally used for bearings in standard bearing housings so that almost all the housings are designed for this.

Although in the majority of cases the grease fill applied either on mounting or after a routine inspection is usually adequate for reliable lubrication, most housings have threaded holes to take grease nipples and the nipples are also supplied with some housings.

Almost always indications (

fig 1

) or bosses are provided on the castings to show where additional holes or ducts can be drilled (

fig 2

) so that automatic lubricators can be installed in the correct positions, for example.

Usually the bearing is completely filled with grease and the free space in the housing filled to between 30 and 50%. If operating speeds are slow, the housing may also be completely filled as this enhances protection against corrosion and contaminants.
Oil lubrication
Of the SKF range of plummer block housings, the SONL housings (
fig 3
) with their dip ring have been specially designed for oil lubrication. They are intended for applications where speeds are high or high operating temperatures pertain.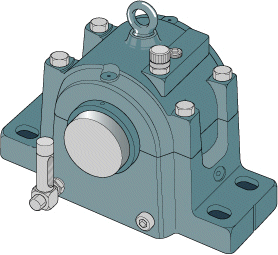 Most of the other housings, especially the larger ones, can also be adapted for oil lubrication if required. Special steps have to be taken to ensure dynamic as well as static sealing. In such cases it is recommended that the SKF application engineering service is approached.