Location on the shaft

There is a choice of five different methods of locking SKF Y-bearings and Y-bearing units on the shaft:

The use of an interference fit is only available for the Y-bearings of series 17262(00)-2RS1 and 17263(00)-2RS1. These are supplied separately and the required housings must also be ordered separately.
The eccentric locking collar method should preferably be chosen for applications where the direction of rotation of the shaft is constant.
The other methods are appropriate for alternating as well as constant directions of rotation.
SKF ConCentra locking
The SKF ConCentra stepped sleeve is the real innovation behind the SKF ConCentra bearing unit (
fig 6
). The locking concept is based on two mating surfaces with precision-engineered inclined serrations on their contact surfaces. These mating surfaces respond to axial displacement by expanding and contracting evenly around the entire circumference of the shaft. The stepped sleeve is equipped with a mounting and pressure ring (
fig 7
).
By tightening the grub (set) screws in the mounting ring, using the hexagonal key (allen wrench) supplied with each unit, the pressure ring forces the inner ring up the inclined planes of the stepped sleeve to provide a true concentric tight fit on the shaft (
fig 8
).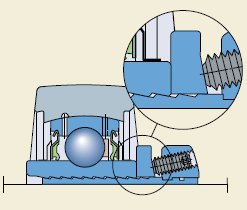 SKF ConCentra locking technology enables a bearing to operate with maximum reliability – improving both function and service life.