Bearings and bearing units with Solid Oil

The SKF standard assortment of bearings with Solid Oil (
fig. 1
) includes:
Deep groove ball bearings

Spherical roller bearings

Y-bearings

Tapered roller bearings

Cylindrical roller bearings

Self-aligning ball bearings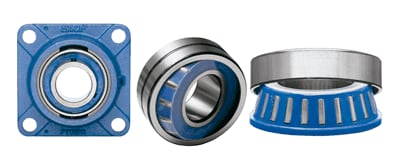 Solid Oil variants
The assortment includes a standard variant containing a high quality synthetic oil which meets the needs of most applications (designation suffix W64) and a food grade variant containing an oil registered by NSF as a category H1 (designation suffix W64F).

Table 1
lists characteristics of both general purpose (W64) and food grade (W64F) versions of bearings with Solid Oil.
On request, SKF can supply other bearing types with Solid Oil to meet the needs of a particular application, except for CARB toroidal roller bearings which are unsuitable for use with Solid Oil. Bearings fitted with a large-volume cage are not suitable for Solid Oil because there is too little free space inside the bearing. For information about these engineered products, contact the SKF application engineering service.

Sealing solutions
For optimal performance in wet environments, it is strongly recommended that bearings with Solid Oil with integral contact seals be used, wherever possible. When combining Solid Oil and contacting seals, the sealing capacity is improved as the Solid Oil acts as an axial support preventing the seals from deflecting and opening under pressure.
Particularly where carbon steel bearings are exposed to wet environments, external seals are recommended to protect the bearing's external surfaces from corrosion.

For more information regarding sealing options, contact SKF application engineering service.