Deep groove ball bearings
SKF deep groove ball bearings for high as well low temperatures correspond in design to the appropriate standard single row deep groove ball bearings. They have no filling slots and are able to accommodate moderate axial loads in addition to radial loads. The characteristic features of these bearings include large radial internal clearance and special cages. The large clearance is four times the C5 clearance and prevents the bearings from seizing even when they are rapidly cooled. All surfaces of the bearings and the shields are manganese phosphated. This provides protection against corrosion and improves running properties.
SKF deep groove ball bearings for high temperatures have a cylindrical bore and are available in five different designs as described in the following.
VA201 design for the most common applications
Bearings of the
VA201
design are not sealed and have a pressed steel cage. They are lubricated with a polyalkylene glycol/graphite mixture which can be used at temperatures between –40 and +250 °C. At temperatures above +200 °C, dry lubrication pertains.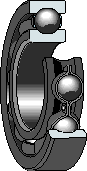 2Z/VA201 design with protective shields
The bearings of the
2Z/VA201
design are of the same design as the VA201 bearings but have protective shields on both sides to prevent the ingress of solid contaminants. Additionally, these bearings have twice the amount of the polyalkylene glycol/graphite mixture as the open VA201 design bearings.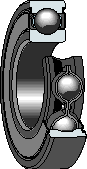 Note
Bearings of the 2Z/VA201 design are not recommended for mainly non-rotating applications.
2Z/VA208 design for high demands
Bearings of the
2Z/VA208
design have a segmented cage of graphite and can be used at temperatures between –150 and +350 °C. The segments separate the balls and also provide the necessary lubrication. The bearings are fitted with two shields, which axially guide the cage segments and prevent the entry of solid contaminants. The minute quantities of graphite powder released by the cage during rotation provide adequate lubrication for the bearing.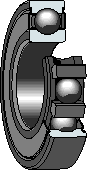 An additional advantage of these bearings is that they are environmentally friendly. Even at maximum temperatures, no dangerous gases or vapours are emitted.
2Z/VA228 design for top requirements
The
2Z/VA228
design bearings are the "top-of-the-range" among SKF products for high temperatures. They are fitted with a "coronet" cage of pure graphite, which opens up additional application areas for these high-temperature bearings. The coronet cage is a unique SKF development and permits operating speeds of up to 100 r/min.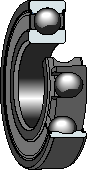 For normal cases, the lubricant fill is between 25 and 35% of the free space in the bearing. On request other filling grades can be supplied.