Cages
Cages have an appreciable influence on the suitability of rolling bearings. Their main purposes are
keeping the rolling elements at an appropriate distance from each other and to prevent direct contact between neighbouring rolling elements, in order to keep friction and thus heat generation at a minimum

keeping the rolling elements evenly distributed around the complete circumference to provide even load distribution and quiet and uniform running

guiding the rolling elements in the unloaded zone, to improve the rolling conditions in the bearing and to prevent damaging sliding movements

retaining the rolling elements, where bearings are of a separable design and one bearing ring is removed during mounting or dismounting.
Cages are mechanically stressed by frictional, strain and inertia forces and they may also be subjected to the chemical action of certain lubricants, lubricant additives or products of their ageing, organic solvents or coolants. Therefore the design and material are of paramount importance for the performance of the cage as well as for the operational reliability of the bearing itself. This is the reason why SKF has developed various cage types and designs of different materials for the different bearing types.
In the introductory text to each product section information is provided about the standard cages fitted to the bearings and also possible alternatives. If a bearing with a non-standard cage is required, it is always advisable to check availability before ordering.
In general, the cages for SKF rolling bearings can be classified as pressed, solid or pin-type cages.
Pressed cages
Pressed cages for SKF bearings generally are made of sheet steel and with some exceptions of sheet brass (
fig 1
). Depending on the bearing type pressed cages are designed as
ribbon-type brass or steel cage (a)

riveted steel cage (b)

snap-type brass or steel cage (c)

extremely strong window-type steel cage (d).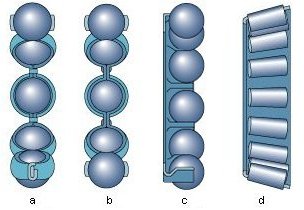 Pressed cages offer the advantage of lower weight as well as the advantage of more space inside the bearing, which facilitates entry of the lubricant into the bearing.
Solid cages
Solid cages for SKF bearings are made from brass, steel, light alloy, polymer or fabric reinforced phenolic resin (
fig 2
). Depending on the bearing design they are designed as
two-piece machined riveted cage (a)

two-piece machined cage with integral rivets (b)

one-piece machined window-type cage (c)

double pronged machined cage (d)

injection moulded polymer window-type cage (e)

injection moulded polymer snap-type cage (f)

one-piece machined cage of fabric reinforced phenolic resin (g).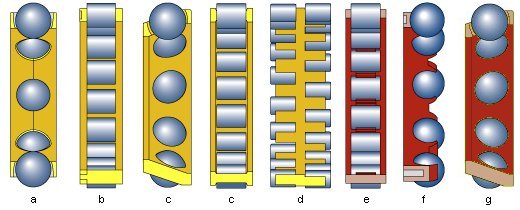 Machined metal cages generally permit higher speeds and are necessary when movements additional to pure rotation are superimposed, particularly when conditions of high acceleration prevail. Suitable steps must be taken (e.g. oil lubrication) to provide sufficient supply of lubricant to the guiding surfaces of the cage and to the inside of the bearing. Machined cages are centred (
fig 3
) either on the
rolling elements (a)

inner ring shoulder(s) (b)

outer ring shoulder(s) (c)
and are thus radially guided.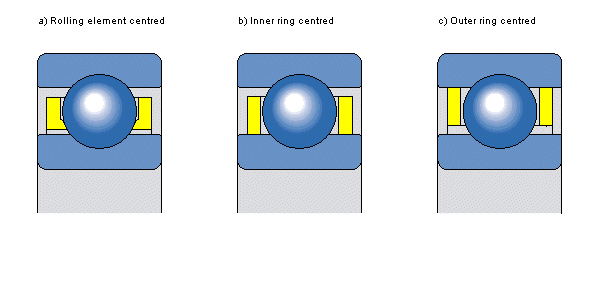 Solid polymer cages are characterized by a favourable combination of strength and elasticity. The good sliding properties of the polymer on lubricated steel surfaces and the smoothness of the cage surfaces in contact with the rolling elements produce just little friction so that heat generation and wear in the bearing are at a minimum. The low density of the material means that the inertia of the cage is small. The excellent running properties of polymer cages under lubricant starvation conditions permit continued operation of the bearing for some time without risk of seizure and secondary damage.
Pin-type cages
Steel pin-type cages need pierced rollers (
fig 4
) and are only used together with large-sized roller bearings. These cages have relative low weight and enable a large number of rollers being incorporated.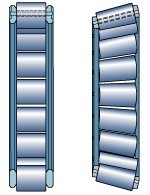 Materials
Detailed information about materials used for cages can be found in the section Material for rolling bearings -
Cage materials