Dismounting bearings fitted on a cylindrical shaft seat
Cold dismounting
Small bearings can be dismounted from a shaft by applying light hammer blows via a suitable drift to the ring side face, or preferably by using a mechanical puller. The claws must be applied to the inner ring or an adjacent component (
fig. 1
). Dismounting is made easier if slots for the claws of a puller are provided in the shaft and/or housing shoulders. Alternatively, tapped holes in the housing shoulder can be provided to accommodate withdrawal screws (
fig. 2
).
Medium- and large-size bearings generally require greater force than a mechanical tool can provide. Therefore, SKF recommends using either hydraulically assisted tools or the oil injection method, or both. This presupposes that the necessary oil supply ducts and distribution grooves have been designed into the shaft (
fig. 3
).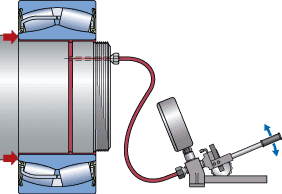 Hot dismounting
Dismounting with heat is a suitable method when removing inner rings of needle roller bearings or NU, NJ and NUP design cylindrical roller bearings. Two different tools for this purpose are common: heating rings and adjustable induction heaters.
Heating rings are typically used to mount and dismount the inner ring of small to medium- size bearings that are all the same size. Heating rings are made of light alloy. They are radially slotted and equipped with insulated handles (
fig. 4
).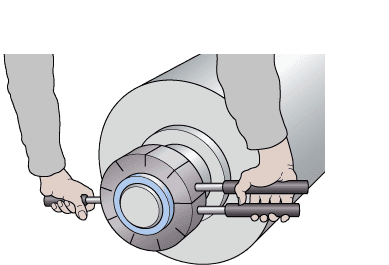 If inner rings with different diameters are dismounted frequently, SKF recommends using an adjustable induction heater. These heaters (
fig. 5
) heat the inner ring rapidly without heating the shaft.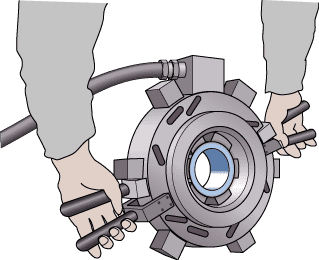 Special fixed induction heaters have been developed to dismount the inner rings of large cylindrical roller bearings (
fig. 6
).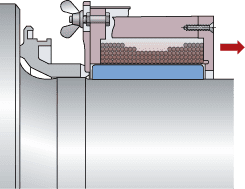 Induction heaters and heating rings are available from SKF. For additional information, refer to
Maintenance products
.