Sealed bearings
A selection of SKF spherical roller bearings is also produced in a sealed version with contact seals on both sides (
fig 1
). The seals are reinforced with sheet steel and made of an oil and wear-resistant
acrylonitrile-butadiene rubber (NBR), designation suffix 2CS

hydrogenated acrylonitrile butadiene rubber (HNBR), designation suffix 2CS5

fluoro rubber (FKM), designation suffix 2CS2.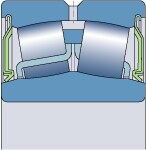 The seals are inserted in recesses in the outer ring. For smaller bearing sizes, the seals are pressed into the recesses (
fig 2
) while the seals for the larger sizes are held in position by means of retaining rings (
fig 3
). The seals have two sealing lips contacting the lead-in at the sides of the inner ring raceway, to provide efficient sealing.
Sealed bearings are lubricated as standard with an extreme pressure bearing grease according to
table
. They should not be heated to temperatures above 80 °C during mounting, and should not be washed.
Sealed bearings do not need to be relubricated when the operating temperature does not exceed 70 °C and the rotational speed is below 50% of the limiting speed listed in the product table. When temperature and/or speeds are high, relubrication with a similar grease with lithium thickener is recommended (
table
). Note that only a small amount of grease is needed to relubricate sealed bearings. The grease should be pressed in slowly through the lubrication holes in the outer ring while the bearing is rotating. Excessive pressure should be avoided so as not to damage the seals.
The internal design of a sealed bearing corresponds to that of an open bearing. The external dimensions are also the same except for bearings based on the 222 and 223 series. These bearings are slightly wider and carry the series designation BS2-22 and BS2-23 respectively.
Sealed bearings are available with a cylindrical bore as standard. However most bearings in the BS2-22 series are available with a tapered bore as well. Every sealed bearing can be supplied with a tapered bore to special order.
To prevent interference with the seal, the diameter of the shaft abutment should not exceed d
amax
at least for the 1 to 2 mm closest to the bearing (
fig 4
).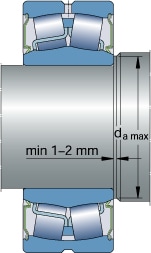 If the bearings are secured axially on the shaft by a lock nut, SKF recommends using a KMFE lock nut (
fig 5
) or to position an intermediate ring between the bearing and the lock nut (
fig 6
).
Warning
Seals made of fluoro rubber exposed to extreme temperatures above 300 °C give off hazardous fumes. Therefore the safety recommendations must be followed, see WARNING! Safety precautions for fluoro rubber