Single row tapered roller bearings
The SKF standard range of single row tapered roller bearings (
fig 1
) covers the popular sizes of metric bearings manufactured to ISO 355:1977 and inch bearings which follow the ANSI/ABMA standard 19.2-1994. The range can be divided into
bearings for general use

high-performance bearings manufactured to the CL7C specifications

bearings with a flanged outer ring
as well as
Paired single row tapered roller bearings
.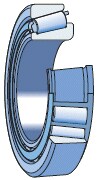 For bearing arrangements operating in particularly difficult environments, for example, where the lubricating oil may be highly contaminated, where high operating temperatures prevail or where heavy deforming loads can be expected, SKF can supply particularly wear-resistant tapered roller bearings. Details are available on request.
Standard design
SKF tapered roller bearings for general use, including SKF bearings to Q specifications, have been optimized with regard to
sliding contact surfaces of the guide flange of the inner ring

roller end faces

raceway contact profile.
In addition, highly accurate manufacturing processes make adjustment of the bearings against each other more reliable, which dramatically improves performance especially during the very first hours of operation.
CL7C specification bearings
SKF tapered roller bearings produced to the CL7C specifications are intended for bearing arrangements supporting heavy axial loads, for example, gearbox pinion bearing arrangements. These bearings, which are mounted with preload, have special friction characteristics, higher running accuracy and higher axial load carrying capacity to provide a constant, accurate mesh.
In contrast to the bearings for general use, CL7C specification bearings can be adjusted to within narrow limits using the frictional torque method, which considerably simplifies the adjustment process.
With CL7C specification bearings there is practically no running-in wear. As a hydrodynamic lubricant film in the roller end/flange contacts is established from the outset, there is virtually no loss of preload and the preload can be maintained at a constant high level throughout operation.
Bearings with flanged outer ring
Certain sizes of SKF single row tapered roller bearings are also available with a flange on the outer ring (
fig 2
). Bearings having this external flange can be axially located in the housing to provide a simplified, more compact bearing arrangement. The housing bore is simpler to produce, as no shoulders are required.