Screw-down bearings
Tapered roller thrust bearings of this type must be able to accommodate extremely heavy axial loads and also permit angular movement of the screw spindle with respect to the support. The bearings are therefore generally of the full complement type and have extremely long rollers of large diameter. To be able to accommodate the alignment movements of the chock without detrimental effect on bearing performance, the bearings have one sphered washer. This may be either the shaft washer (
fig 1
) or the housing washer (
fig 2
).
The necessary alignment movements take place in bearings having a sphered shaft washer above the roller complement between the sphered shaft washer and a correspondingly concave sphered screw spindle or pressure plate (
fig 3
). The pressure plate can also be supplied by SKF.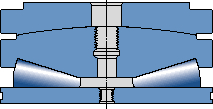 Where the housing washer is sphered, the alignment movements are accommodated below the roller complement between the housing washer and the pressure plate. The pressure plate for these bearings is always supplied with the bearing.
SKF produces many designs of screw-down bearing; they are tailored to meet the particular requirements of the specific application.