Firmware application modules

Analysis modules designed for ease of use and versatility
SKF puts the power of knowledge engineering into your hands with advanced vibration monitoring technologies designed to handle a wide range of tasks required for analysis of rotating machinery in countless industries. Customers have the flexibility to select individual modules for specific types of analysis. Each SKF Microlog ships with all of the modules installed to enable quick and easy in-the-field upgrades by entering an additional license key.

Refer to the SKF Microlog Series Product Catalogue for details about each available module.


Frequency Response Function (FRF) module

The FRF module is designed to enable a user to quickly establish a structure's properties (accelerance, apparent mass, mobility, impedance stiffness or compliance) by performing modal analysis using a calibrated hammer for the excitation. The FRF module can also measure and display the transfer function (ratio) between two transducers while a machine is running (

fig 1

).

Run up Coast down (RuCd) module

The RuCd module analyzes data from machines where noise or vibration levels are changing with speed, time or load (applications that cause transient phenomena) to establish the critical/resonant speeds of a machine (

fig 2

).

The module simultaneously acquires a vibration and a tachometer signal and stores the data as a time waveform (.wav file) for further analysis. The result of the analysis can be presented in a variety of formats: Bode, Nyquist, waterfall, colour spectrogram or tables.

Conformance Check module

The Conformance Check module compares vibration levels with established limits and a pass or fail indication displays to show whether the product complies with predefined quality indicators or required standards. Conformance Check has the ability to assess up to 64 individual fault criteria simultaneously and provide an on-screen indication if a warning or alarm level is reached (

fig 3

).

FFT Analyzer module

The FFT Analyzer module allows you to quickly set up spectral/phase measurements for analysis (

fig 4

). By providing a phase vector reading (needed to diagnose some machine faults), an operator can build an understanding of the relative motion of individual parts of the machine. You can place sensors and set up and take measurements all without the need to stop the machine.

Balancing module

The Balancing module is a simple to use application, enabling users to correct a state of unbalance and, therefore, to ensure smooth running and operation (

fig 5

).

The Balancing module resolves single-plane, two-plane and static-couple balances with high precision on rotating machine parts such as rotors for electric motors, fans, turbines, propellers and pumps. Clear, comprehensive setup menus and display screens with graphical data representations promote ease of operation.

Data Recorder module

The Data Recorder module enables the SKF Microlog to act as a digital signal recorder, allowing you to record a machine's raw vibration signal (time waveform) as a Microsoft Windows .wav audio file (

fig 6

).

Examples for use include analysis of very low speed machinery and capturing intermittent events and transient vibration signals from non-steady state machinery. With a problem machine that cannot be run for any length of time without resulting in additional damage, the vibration signal can be recorded as .wav data while the machine runs for a short time.

Spindle Test module
The SKF Spindle Assessment kit has been developed in conjunction with the SKF Machine Tool Precision Services and performs nine tests on machine tool spindles (
fig 7
):
Imbalance

Mechanical condition

Bearing condition

Tool nose run out

Clamp force (ISO, HSK)

EM distance

Belt tension

Speed accuracy

Resonant frequency

SKF Idler Sound Monitor module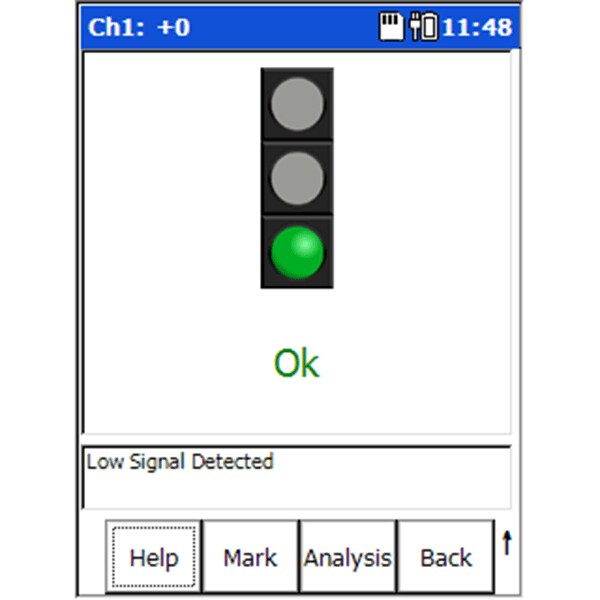 Designed for early detection of faults in conveyor belt support and return idler rollers in industries such as mining and cement, the SKF Idler Sound Monitor module allows users to distinguish between good and faulty idler rollers (
fig 8
). Use of this module will help detect:
Damaged idler bearings

Lack of lubrication in bearings

Damaged idler shells

Metal-to-metal rubbing

Rumbling from abrasion with conveyor belts

Bearings that are about to seize

Route module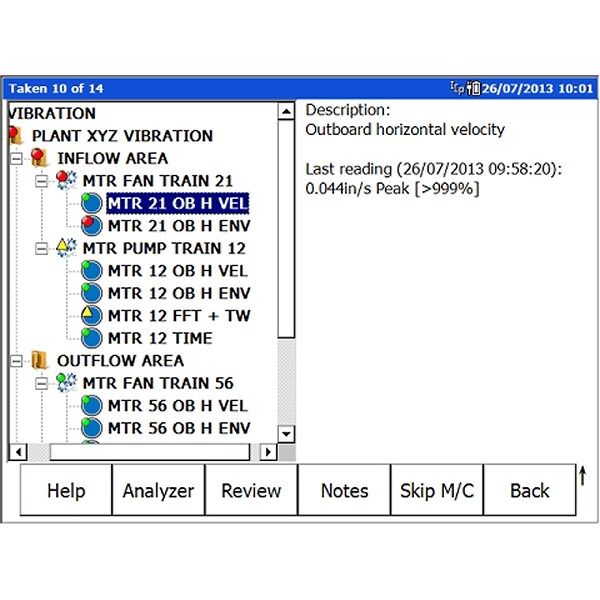 The Route module (
fig 9
) allows users to carry out routine data collection, using a multi-parameter approach, to collect and trend data to help diagnose machinery faults. Users can set up single channel, dual or simultaneous triaxial measurements using SKF @ptitude Analyst software. Measurements can be sequenced for the most efficient data collection regardless of their location in your measurement database hierarchy.