SLC
Compact metering devices for use in single-line grease lubrication systems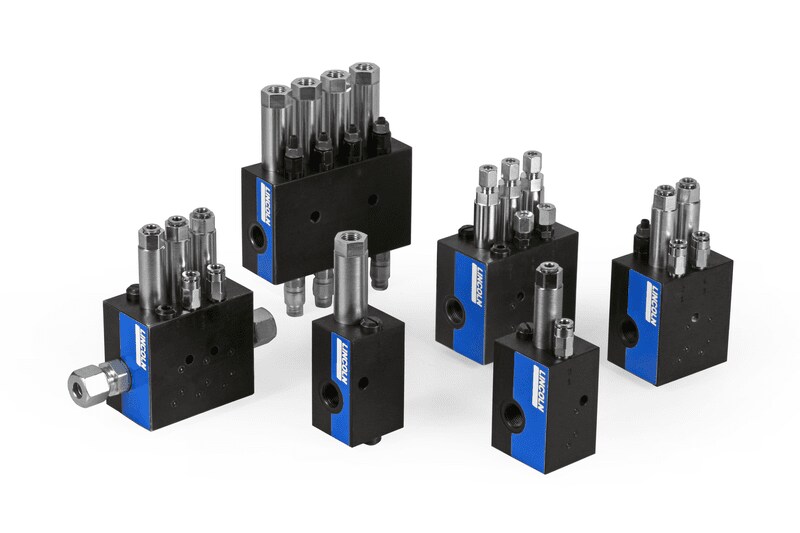 The Lincoln SLC metering device is designed for use in high-pressure single-line lubrication systems and features a modular design. Also, delivery volume can be adjusted via metering screws so that each lubrication point receives the required amount of lubricant.
Featuring a spring-reset control piston, the metering device has a high venting capability for compatibility with greases up to NLGI 2. The SLC offers reliable metering even with unstable greases which tend to bleed.
The SLC is available in two versions – the SLC1 for one to 12 outlets and the SLC2 for one to six outlets with doubled output. Both are offered with BSP or NPT threads. The SLC metering device is compatible for use with a screw-in piston detector to monitor proper function of two outlets on the SLC1 and of one outlet on the SLC2. Easy functionality test can be run using the visual memory indicators. These show reliably correct functionality after only one test lubrication cycle and keeps a detected section failure visible permanently.
The SLC metering device is supported by pressure in the lubricant line and disproportionately high back-pressure leading to reliable relief behavior and high functionality. This pressure-relief behavior enables the device to operate in low temperatures. With the most compact construction in its class, the SLC is suitable for renewable energy, construction and mining applications including heavy industry.
Features and benefits:
High venting capability

Wide delivery volume range

Most compact construction

Design can be adjusted to customer needs:

BSP or NPT threads

Metric and imperial sizes for inlet and outlet fittings

Metering or regulating screws to set the required outlet quantity

Various monitoring options


Easy to monitor and maintain

Simplified failure analysis

Decreased risk of leaks

Reliable operation in harsh conditions and low temperatures
Configure the product according your needs, download the CAD file