Medium induction heater

High heating capacity of up to 120 kg bearing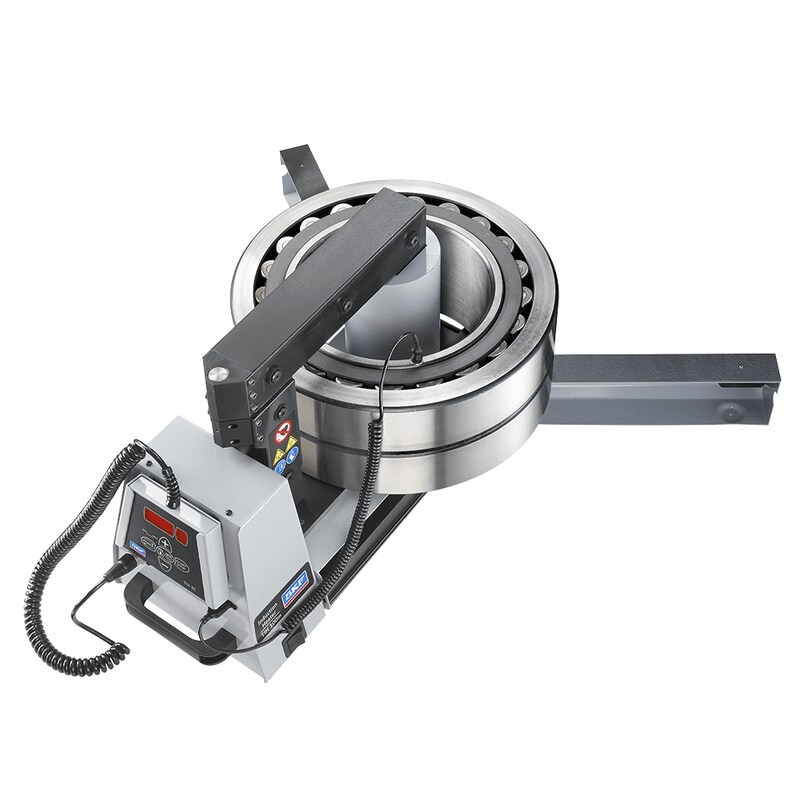 The SKF medium induction heater TIH 100m has the same high standards of efficiency and performance as the smaller heater
TIH 030m
, combined with increased capacity. The advanced design of the power electronics allows features of accurate electric current control, cut-outs to avoid overheating, controls on rate of temperature increase, these are as some of the standard features in the TIH...m range.
Placing the induction coil outside the heater's housing allows the heating of bearings weighing up to 120 kg (264 lb). The heater is equipped with thermal overheating protection to reduce the risk of damage to the induction coil and the electronics. In addition to temperature mode, the TIH 100m is equipped with a time mode for heating components other than bearings. The heater is supplied standard with three yokes and is available in two executions: 230V/50-60Hz or 400-460V/50-60Hz.
Demonstration video SKF Induction heaters
Please note
This English spoken video has subtitles. Please choose your language as applicable.
Features and benefits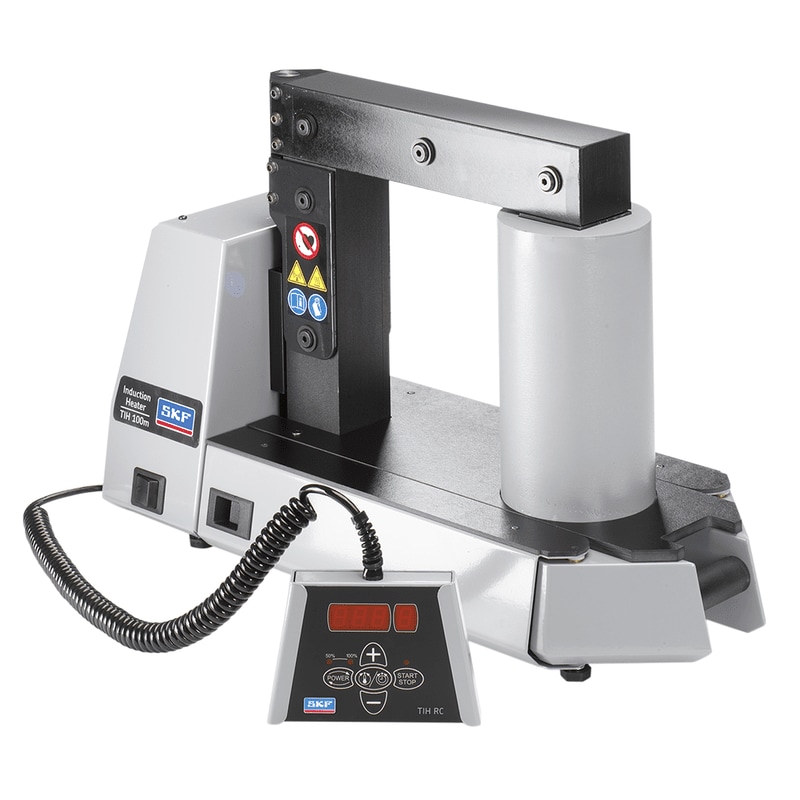 Standard swivel arm for large size yoke

Capable of heating a 97 kg (213 lb) bearing in less than 20 minutes, saving time and energy

2-step power setting and smaller yokes allow heating smaller bearings safely and at lower power consumption

Temperature mode pre–set at 110 °C (230 °F) to help prevent bearing over–heating

Automatic demagnetisation

3 years warranty
Technical data
Technical data

Designation

TIH 100m


SKF m20 performance

97 kg (213 lb)

Voltage, V/Hz



- TIH 100M/230V
- TIH 100M/MV

230V/50-60Hz
400-460V/50-60Hz

Work piece:



- Maximum weight

120 kg (264 lb)

- Maximum bore diameter

20 - 400 mm (0.8 - 15.7 in.)

Temperature control:



- Range

0 - 250 °C (32 - 482 °F)

- Magnetic probe

Yes, K-type

- Accuracy (electronics)

± 2 °C (± 3,6 °F)

Time control:



- Range

0 - 60 minutes

- Accuracy

± 0,01 sec.

Maximum temperature (approx.)

400 °C (750 °F)

Thermometer mode

Yes

Bearing mode

Yes

Power reduction

2-step; 50 - 100%

Demagnetisation according
to SKF norms (automatic)


Yes (<2 A/cm)

Can heat sealed bearings

Yes

Can heat pre - greased bearings

Yes

Error guiding codes

Yes

Thermal overload protection

Yes

Maximum magnetic flux

1,7 T

Control panel

Key board with LED in remote control

Operating area (w × h)

155 × 205 mm (6.1 × 8.0 in.)

Coil diameter

110 mm (4.3 in.)

Dimensions (w × d × h)

570 × 230 × 350 mm
(22.4 × 9.0 × 13.7 in.)

Total weight, including yokes

42 kg (92 lb)

Maximum power consumption

3,6 kVA (230V)



4,0-4,6 kVA (400-460V)

Number of standard yokes

3

Standard yokes

56 × 56 × 296 mm (2.2 × 2.2 × 11.7 in.),
for heating bearings with bore diameter of 80 mm (3.1 in.) and larger



28 × 28 × 296 mm (1.1 × 1.1 × 11.7 in.),
for heating bearings with bore diameter of 40 mm (1.6 in.) and larger



14 × 14 × 296 mm (0.6 × 0.6 × 11.7 in.),
for heating bearings with bore diameter of 20 mm (0.8 in.) and larger

Core cross section

56 × 56 mm (2.2 × 2.2 in.)

Yoke storage

Yes, foldable

Sliding arm

No

Swivel arm

Yes, large yoke only

Cooling fan

No

Housing material

Steel and glass filled polyamide

Warranty period

3 years