Mounting and dismounting
When mounting Y-bearings on a shaft, suitable tools should be used and the locking components should be tightened to the torque values / tightening angles listed in the product tables. The tightening angles, listed for bearings on an adapter sleeve, are to be used as guideline values only, as it is difficult to establish an exact starting position.
For SKF ConCentra Y-bearings, mounting kits are available from SKF (designation 626830), which include mounting instructions, hexagonal keys and torque indicators. The correct tightening torque is achieved when the long end of the hexagonal key comes in contact with the torque indicator (
fig. 1
).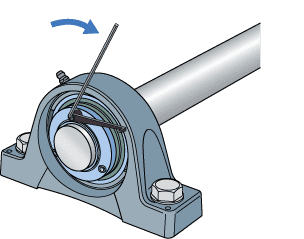 For additional information about mounting and dismounting Y-bearings and assembling Y-bearing units, refer to the SKF bearing maintenance handbook.