Sealing solutions
SKF ConCentra roller bearing units in the SYNT series are available with different sealing solutions.

Bearing units in the FYNT series are produced standard with double-lip seals. End covers are also available, but must be ordered separately.

Table 1 provides an overview of the characteristics and suitability of each sealing solution. Details are provided in the following text. This information should be used as a guideline, and does not substitute for testing a seal in its application.
Double-lip seals
Double-lip seals (
fig. 1
) are made of acrylonitrilebutadiene rubber (NBR) that is vulcanized onto a stamped steel insert. The steel insert enables the outside surface of the seal to sit firmly in the housing bore, providing a static seal. The seal has an auxiliary lip to protect against coarse contaminants.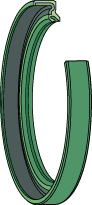 Labyrinth seals
As labyrinth seals (
fig. 2
) do not generate friction, bearing units fitted with these seals are capable of relatively high speed operation. The labyrinth is created with three sheet steel rings. Two rings are fixed to the mounting collar / back-up collar. Both rotate with the shaft to act as flingers. The third ring is secured in the housing bore.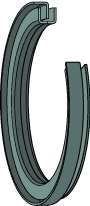 Heavy-duty radial shaft seals
Heavy-duty radial shaft seals with an auxiliary lip (
fig. 3
) provide superior protection against contaminants. These rugged and robust seals have a steel insert that is encased in acrylonitrile-butadiene rubber (NBR). The primary seal lip can maintain its sealing ability even if there is excessive wear. An auxiliary dust lip provides added protection against coarse contaminants.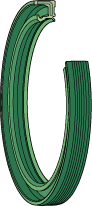 End covers
Bearing units mounted at the end of a shaft should have an end cover (
fig. 4
). These are made of plastic and can be snapped easily into the recess of the housing bore.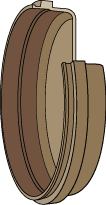 Details of the permissible length of the shaft end are provided in
table 2
.