Sealing solutions

The assortment of sealed bearings (
fig. 1
) consists of small and medium-size full complement bearings with a cylindrical bore. These bearings, which are typically used in applications where there are slow speeds and very heavy loads, can accommodate inner or outer ring rotation. The seals are designed for long service life and make the bearings virtually relubrication-free.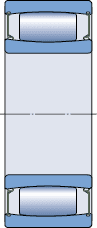 Sealed bearings have a double lip contact HNBR seal on one or both sides (designation suffix CS5 or 2CS5). The seals are reinforced with a sheet steel insert. They are fitted in a recess on the outer ring and seal against the inner ring raceway.
Greases for sealed bearings
Sealed CARB bearings are filled with a high-quality grease (
table 1
) that has good corrosion inhibiting properties. Sealed bearings with non-standard grease fills can be supplied on request.