Insert bearings
SKF wide inner ring insert bearings are based on the design of the 62(00) series deep groove ball bearing. They share the same materials, high precision and high quality manufacturing processes. Rings and steel balls are made of SAE 52100 bearing steel. Raceways are hardened, ground,and honed. Steel balls are a high precision grade #10. Cages are a molded, glass fiber reinforced polyamide. The standard seal is a positive contact, land riding seal with an integral trash guard.
Features, benefits and related applications

Product features
Designed for quick, easy and safe mounting

Sealed, greased and ready to mount

Bearings are prelubricated with an optimum fill of a long life lithium complex grease

Multiple sealing solutions available

Available in different designs, materials and sizes

Solid Oil available

User benefits
Increased productivity

Reduced maintenance cost

High speed capabilities

Low noise

Superior protection against contamination

Long bearing service life

Strong and durable

Easy to install and maintain

Applications
Because of their versatility, and cost effectiveness, ball bearing units are typically found in the following applications:
Agricultural machinery

Food and beverage processing and packaging

Conveyor systems

Material handling systems

Textile equipment

Industrial fans

Ball bearing units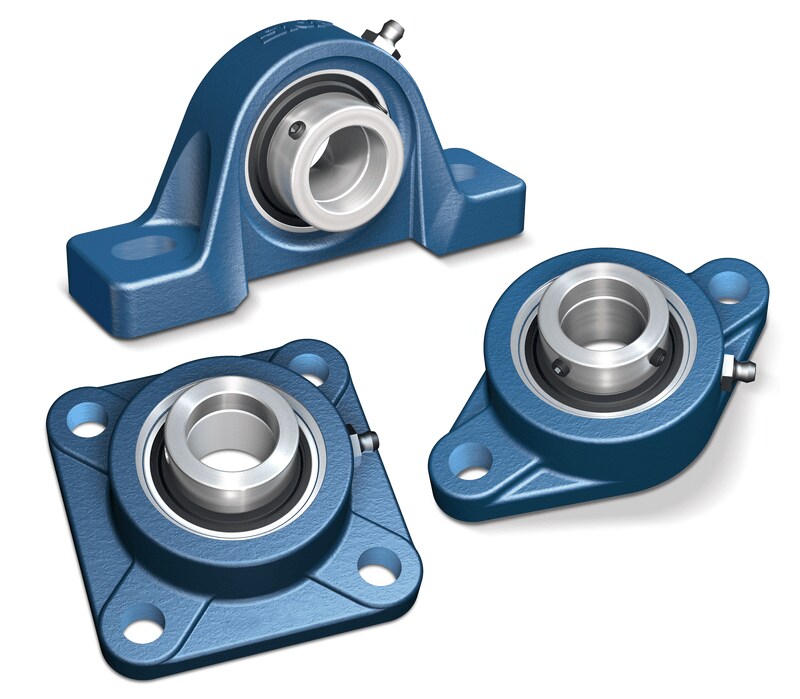 Ball bearing units consist of a precision wide inner ring bearing assembled into a housing made of cast iron or pressed steel. Units are prelubricated and are designed to slip fit on to the shaft. Locking method is either set screw locking, eccentric self-locking or concentric. On cast iron and pressed steel units, the outside diameter of the bearing and the inside diameter of the housing are sphered, allowing the bearing to swivel within the housing to accommodate initial alignment.
There are numerous bearing and housing combinations to accommodate a diversity of mounting surfaces, load requirements, shaft sizes and dimensional requirements. Housing types include: pillow blocks, flange units, take-up units, flangette units, tapped base units and rubber cartridges. Bearings include YAR, YEL, YET and YSP series of wide inner ring bearings.