Bearings with an extended inner ring

Self-aligning ball bearings with an extended inner ring (
fig. 1
) are designed for less demanding applications that use commercial grade shafting. The special bore tolerance, class JS7 (
table 1
), facilitates mounting and dismounting.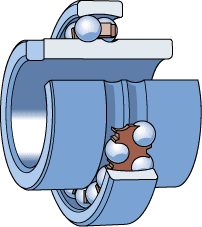 Self-aligning ball bearings with an extended inner ring are located axially on the shaft by means of a slot at one end of the inner ring that engages a pin or shoulder screw (
fig. 2
) fitted to the shaft. The holding device also prevents the shaft from spinning in the bearing bore.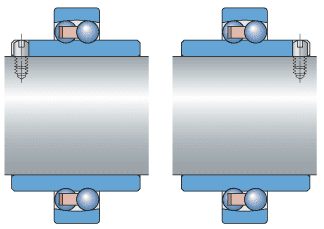 When two of these bearings are used to support a shaft, they should be positioned so that the inner ring slots either face each other, or are opposed to each other (
fig. 2
). If this is not the case, the shaft is located axially in one direction only.