Rubber seating rings
Rubber seating rings in the RIS 2 series (
fig. 1
) are primarily intended to "cushion" Y-bearings in pressed steel plummer block housings. Located on the bearing outer ring and in housing bore (
fig. 2
), they are intended to dampen vibration and noise and enable the bearings to be displaced slightly in their housings to accommodate minor shaft expansion or misalignment.
The seating rings in the RIS 2 series are made of NBR and have a sphered (convex) outside surface. The rings can withstand temperatures ranging from –30 to +100 °C
(–20 to +210 °F)
. The designations and dimensions for rubber seating rings are listed in the
product table
.
Rubber seating rings are available as an accessory and must be ordered separately. They can be fitted on all SKF Y-bearings, except for Y-bearings with a standard inner ring (17262 and 17263 series). However, Y-bearings in the YET 2 series can be supplied with the seating ring already fitted (
fig. 3
). These products are identified by the series prefix CYS, followed by the bearing bore diameter and the bearing identification suffix FM. E.g. CYS 20 FM is a YET 204 bearing with a 20 mm bore, fitted with an RIS 204 rubber seating ring.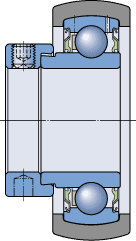 Rubber seating rings are available for pressed steel plummer blocks in a specific size range are listed in the relevant product tables (→ Plummer block housings for Y-bearings, Y-bearing plummer block units).