Free space on both sides of the bearing
To prevent interference between rotating bearing parts and stationary machine parts, free space (C
a
) should be provided as indicated in (
fig. 1
).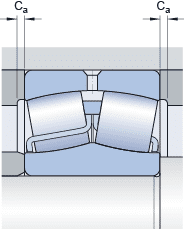 The requisite width of the free space C
a
depends on:
the actual misalignment

lubricant space requirements

That requisite free space should be at least 20 times the minimum value of the radial internal clearance in the unmounted bearing (
table 1
or
table 2
).
For additional information, contact the SKF application engineering service.