Bearing designations
Metric bearings
The designations of metric tapered roller bearings follow one of the following principles:
The series designations in accordance with ISO 355:2007 consist of a digit and two letters. The digit represents the contact angle. The two letters represent the diameter and width series, respectively. This is followed by a three-digit bore diameter d [mm]. The basic designations of SKF tapered roller bearings start with the letter T, e.g. T2ED 045.

Designations established prior to 1977 are based on the system shown under Basic designations, e.g. 32206 (table 1).
Metric bearings with the designation prefix J follow the ABMA designation system which is used for inch bearings (→ ANSI/ABMA Std. 19.2-2013).

Inch bearings
Inch tapered roller bearing designations are in accordance with ANSI/ABMA Std. 19.2-2013.
All inch bearings within a series use the same roller and cage assembly but the inner and outer rings can have different sizes and designs.
Any inner ring with roller and cage assembly (cone) can be assembled with any outer ring (cup) belonging to the same bearing series. For this reason, the cup and cone have individual designations and can be supplied separately (
fig. 1
). The designations of cups and cones as well as the series consist of a three- to six-digit number which may be prefixed to characterize a bearing series from extra-light to extra-heavy.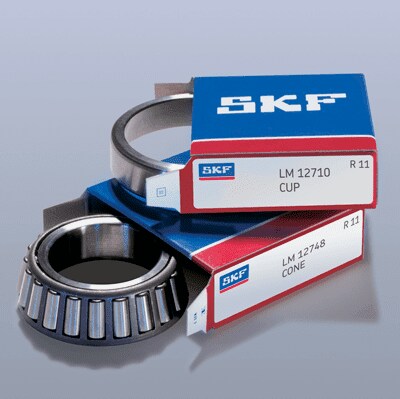 The complete bearing designation consists of the cone designation followed by that of the cup. The two designations are separated by an oblique stroke. To shorten the complete bearing designations, abbreviations are used (
table 2
).