SKF is proud to sponsor the Gothia Cup

The Gothia Cup is the world's largest and most international youth football tournament. Each year, around 1700 teams from 80 nations gather in Gothenburg, Sweden to play 4500 games on 110 fields.

SKF is the proud main sponsor of the Gothia Cup, which attracts more than 37 000 players, team leaders and parents from all over the world.

Gothia Cup represents teamwork, responsibility, equal opportunity and a commitment to the world's youth. It's a great opportunity for young boys and girls from all around the world to meet new friends and learn, understand and respect each other's cultures and ways of living.
SKF Meet the world


A world party celebration
All the 20 Meet the World teams stay together in one location - at a school in Gothenburg during the tournament. They live, eat and play together. Every day there is always one Meet the World team that has a victory to celebrate. All the other teams join in and the school turns in to a world party celebration with dancing and singing.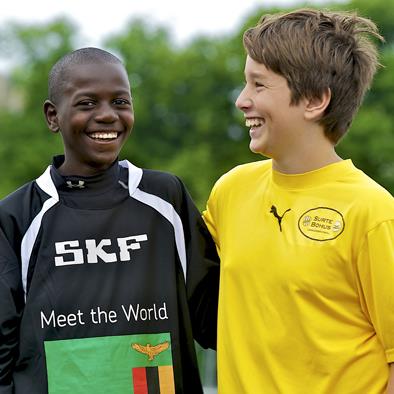 More than football
The stay in Gothenburg is not just about football for the young players. Their visit also includes other activities like excursions to the great amusement park Liseberg and around the picturesque archipelago of Gothenburg. The players will also meet and train with some world-class players from Sweden, and some of the 'Meet the World' teams are also coupled with sister and brother teams from other countries during the tournament. They meet, exchange gifts and addresses and share memories, experiences and dreams with each other.