Mounting
Skill and cleanliness when mounting are necessary if spherical plain bearings and rod ends are to achieve maximum service life and not fail prematurely.
Bearings and rod ends should only be removed from their packages immediately prior to mounting so that they do not become contaminated. Bearing components that could have become dirty as a result of improper handling or damaged packaging should be wiped clean with a lint-free cloth.
The sliding contact surfaces of spherical plain bearings are matched to provide favourable friction and wear characteristics. Therefore, any alteration of the sliding surfaces can reduce bearing service life. Alterations in this context also include washing or exposing the sliding surfaces to solvents, cleaners, oils or similar media.

All associated components should be clean and free of any burrs. Also make sure to check each associated component for dimensional accuracy before the installation process is started.
Spherical plain bearings
When mounting spherical plain bearings with a fractured or split outer ring, it is essential that the joint is positioned at 90° to the direction of load (fig. 1), otherwise service life is reduced.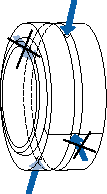 Steel or plastic bands that hold together spherical plain bearing outer rings must not be removed prior to mounting. They are positioned in an annular groove and do not protrude from the outside diameter surface.

Spherical plain bearing outer rings that are axially split and bolted together must be mounted as such, without loosening the bolts.

Mounting
The following tools are suitable for mounting spherical plain bearings:
a mounting dolly (fig. 2) or length of tubing; the ring with an interference fit should generally be mounted first
a dolly having two abutment surfaces (fig. 3) for simultaneously mounting the bearing on the shaft and in the housing
for larger numbers of bearings, suitable tools can be used in combination with a press (fig. 4)

When mounting spherical plain bearings, consider the following:
Never use a hammer or pin punch to drive a bearing in place, as either could damage the rings (fig. 5).
The mounting force should never be directed through the sliding contact surfaces (fig. 6). This could damage the sliding contact surfaces and/or expand fractured or split bearing outer rings, which can cause an increase in the mounting force required.

Hot mounting
As a rule, larger bearings cannot be mounted cold because the force required to press a bearing into position increases considerably with its size. Therefore, SKF recommends the following:
heat the bearing before it is mounted on the shaft (fig. 7)
heat non-split housings before inserting the bearing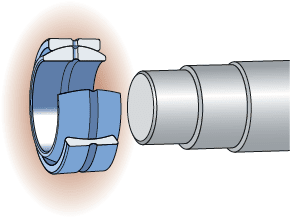 To mount a bearing on a shaft, a temperature differential of 60 to 80 °C between ambient temperature and the heated inner ring, is usually sufficient. For housings, the appropriate differential depends on the degree of interference and the seat diameter. However, a moderate increase in temperature is usually sufficient. When heating the bearing, do not exceed the temperature limit of any associated components, such as the seals.

For an even and risk-free heat source, an induction heater should be used. The use of an SKF induction heater has a number of advantages. It heats the bearing rapidly and a built-in thermostat prevents overheating. The non-metallic components, such as the seals or PTFE fabric, remain cold as does the heater itself. SKF induction heaters automatically demagnetize the bearing after it has been heated. Mounting bearings by cooling the shaft or the bearing is not recommended, as the very low temperatures required inevitably cause condensation, thus creating the risk of corrosion.

To ease the mounting of large bearings, particularly if they have been heated, it is possible to use slings and a hoist. Metal or textile slings placed around the outer ring can be used. A spring between the hoist hook and the sling also facilitates bearing handling (fig. 8).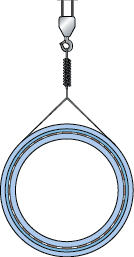 WARNING!
Maintenance-free spherical plain bearings and rod ends must never be subjected to temperatures in excess of +280 °C (+535 °F) due to the PTFE content. PTFE is completely inert below this temperature but at higher temperatures from approx. 320 °C (605 °F) it rapidly decomposes. The fluorine compounds released during this process are extremely toxic, even in small quantities, and can cause serious injury. It should also be remembered that the material is dangerous to handle once it has been overheated, even after it has cooled.
Heat-resistant gloves should be worn when handling hot components.

Rod ends
Rod ends are fitted on pins and shafts in the same way as spherical plain bearings. Slight heating reduces the force required for mounting and reduce the risk of damaging associated components.
When attaching rod ends to threaded rods or extension tubes (fig. 9) a counter lock nut should be used on the rod or on the external thread of the rod end. It should be securely tightened against the abutment surface on the rod end or tube.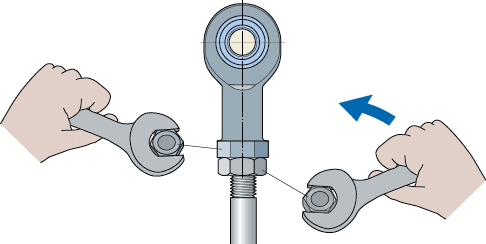 SKF Explorer steel/steel plain bearings
SKF Explorer steel/steel plain bearings should not be lubricated1). These bearings are lubricated at the factory under well-controlled conditions. Introducing a foreign grease will only reduce the effectiveness of the tribological system. When mounting, do not swivel the bearing to the point where grease will be displaced from the bearing.

NOTE:
SKF supplies a comprehensive range of mechanical and hydraulic tools as well as heating equipment for bearing mounting and dismounting. For additional information, refer to www.skf.com/maintenance-products.

1)

The bearings still have lubrication holes for manufacturing reasons. Do not apply grease to the bearing. Greasing or re-greasing the bearings will compromise the maintenance-free operation of the bearings and void the service life commitment provided by SKF with the original bearing.