Relubrication
To maximize the service life of spherical plain bearings and rod ends requiring maintenance, they must be relubricated on a regular basis. This also applies to maintenance-free bearings with a steel/PTFE FRP sliding contact surface. Used grease containing wear debris and contaminants should be removed from the contact zone and replaced with fresh grease.
Determining the proper relubrication interval is extremely important because the attainable service life depends on several factors including:
the magnitude of the load

the type of load

the angle of oscillation

the frequency of oscillation

the operating temperature

the sealing arrangement

other environmental conditions
Long bearing service life can be attained when the following basic relubrication rules are observed:
the same type of grease is always used (table 1)

the lubricant is applied at operating temperature

the lubricant is applied before a long interruption, e.g. before construction or agricultural equipment is stored

Relubrication of non-locating bearings
Non-locating bearings, where axial displacement takes place along the shaft or pin, should always be relubricated via the shaft and bearing inner ring (
fig. 1
). By supplying lubricant in this way, grease also enters between the mating surfaces of the inner ring and shaft seat. This reduces friction and induced axial loads when axial displacement occurs.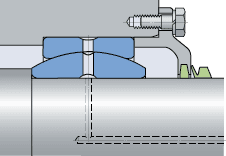 Storage
SKF spherical plain bearings and rod ends are treated with a preservative before they are packaged. They can, therefore, be stored in their original packages for several years. However, the relative humidity in the storeroom should not exceed 60%.

NOTE:
SKF also supplies a comprehensive assortment of greases for various application requirements. For additional information, refer to
www.skf.com/lubrication-solution
.