Installation and assembly
Seal housing grooves
The type of seal housing determines the method of installation, required equipment and the degree of difficulty. There are four main types of seal housings.
Closed housing grooves
Closed housing grooves are the most common seal housings (
fig. 1
). They require the most planning and effort to ensure that the seal is installed properly without damage. Not all seal cross section sizes and material combinations can be installed into this type of seal housing.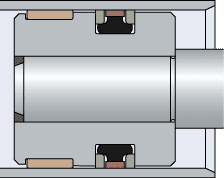 Open housing grooves
Open housing grooves allow the seal to be pressed in with minimal deformation and are therefore a good choice when the seal design, material or size prevent installation into a closed or stepped housing. Some seals, such as press-in wiper seals, have a metal sleeve that retains the seal in an open groove by press forces (
fig. 2
), whereas other seals may require a snap ring (
fig. 3
). Plastic snap rings, such as RI for rods or RR for piston, are available from SKF on request. Open housing grooves require specified edge radii or chamfers to prevent seal damage when the seal enters the housing groove or passes the snap ring groove.
Split two-piece closed grooves
These grooves incorporate two separable machine components to provide an open groove when the seal is installed and a closed groove when the machine is fully assembled (
fig. 4
).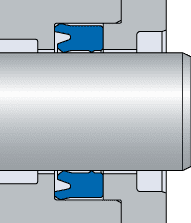 Stepped grooves
Stepped grooves allow seals to be installed with less deformation (
fig. 5
). Snap-in wiper seals are a common example in hydraulic cylinder applications.

Corner radii
The corner radii inside the groove should be sized to avoid inadvertent contact with with the adjacent portion of the seal. Static side corner radius recommendations are provided in the size lists of the relevant product section.
Groove edge radii
All outside groove edges and any other edges that may come into contact with the seal during installation or use should be broken with a small radius. Otherwise, the sharp edge may damage the seal. Unless otherwise specified, all outside groove edges should have a radius of approximately 0,2 mm (0.008 in.).