Lubrication

FNL flanged housings are designed for grease lubrication. The lubricant should be selected based on the operating conditions of the bearing. For additional information, refer to Lubricant selection.
Initial grease fill
If no other requirements exist, the free space in the bearing should be completely filled with grease and the free space in the housing should be filled to 20 to 40% of its volume. A 40% grease fill is required when bearings have to be relubricated from the side, while a 20% grease fill is used when bearings are relubricated via the outer ring.
For highly contaminated environments and slow speeds, fill the housing to 70–80%. For additional information, contact the SKF application engineering service.
Quantities for 20 and 40% grease fills are listed in
table 1
.
The values are valid for a typical lithium grease (about 0,95 g/cm3). They include grease for the bearing and the seals.
In most applications, the initial grease fill will adequately lubricate the bearing until the grease is exchanged during the next planned maintenance interval.
Relubrication
Certain operating conditions such as high speeds, high temperatures or heavy loads may require relubrication. Therefore FNL housings have two holes that have been drilled and tapped for an AH 1/8-27 PTF grease fitting (fig. 1).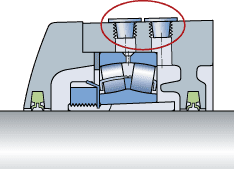 On a new housing, the holes are covered by plastic plugs. These plugs should be replaced with the grease fitting and the threaded plug supplied with the housing. If a larger grease fitting or other equipment has to be used an adapter to change to a G 1/4 thread is available (→
LAPN 1/8
).
Excess grease can escape via the seals. If this is not enough, SKF can supply housings with a grease escape hole in the cover (designation suffix V) on request. SKF recommends removing the housing cover periodically to remove used grease. The time interval for this depends on the application, the size of the bearing and the amount of grease applied.
Relubrication via the outer ring
The hole closest to the cover should be used to relubricate spherical roller bearings with a relubrication feature (a lubrication groove and holes in the outer ring) (
fig. 2
). When applying grease via the relubrication feature the shaft should be rotating.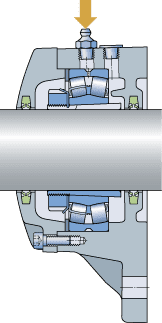 Relubrication from the side
When relubricating from the side, which is typically necessary for self-aligning ball bearings and CARB toroidal roller bearings, the hole closest to the flange should be used (fig. 3).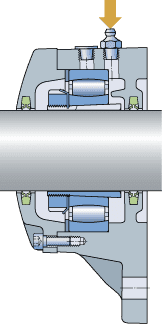 FNL flanged housings have an integral flange that guides grease from the grease fitting directly to the rolling elements (
fig. 4
).