Sealing solutions

The performance of a sealing arrangement is vital to the cleanliness of the lubricant and the service life of the bearings. The type of seal should be selected based on the lubricant type and operating speed but levels of contamination and misalignment should also be considered.
There is a wide assortment of SKF housing seals. Some housings can accommodate different types of seals, while other housings are designed for one specific sealing solution. For information about the sealing solutions available for a particular housing, refer to the relevant product section or the following tables:
The properties, application conditions, and suitability of each sealing solution are also provided in the relevant product section.
Converting circumferential to rotational speeds
To convert the circumferential speed limit of a sealing solution to the equivalent rotational speed, refer to
table 4
.
The SKF Three-Barrier Solution
For highly contaminated environments, SKF recommends the three-barrier solution. This cost-effective sealing solution can have a significant impact on bearing service life as contaminants have to pass through three barriers to reach the bearing (
fig. 1
):
1st barrier – external housing seal

2nd barrier – housing grease

3rd barrier – integral bearing seal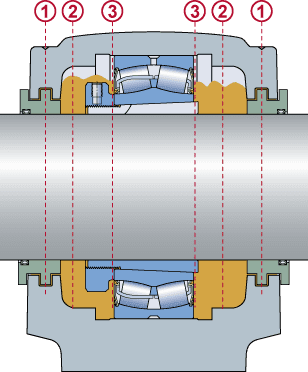 The SKF Three-Barrier Solution consists of a sealed SKF bearing, a housing with a 70 to 90% grease fill, and labyrinth housing seals.
Sealed bearings have integral contact seals that keep the lubricant in and contaminants out of the bearing cavity during operation. The seals also protect the bearing from the ingress of contaminants during installation. Using a sealed bearing also means that the grease used to fill the housing and labyrinth seals is independent of the lubrication requirements for the bearing. Therefore, environmentally friendly, biodegradable greases, such as SKF LGGB 2, can be used to fill the housing (→
Lubrication solutions
).