Hybrid bearings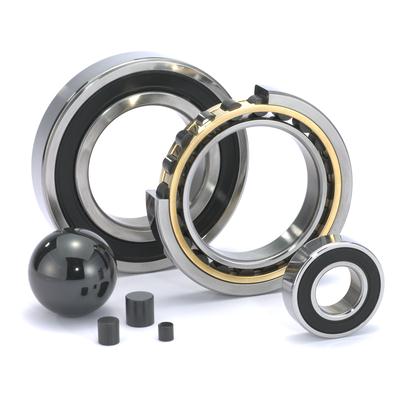 Hybrid bearings have rings made of bearing steel and rolling elements made of bearing grade silicon nitride (Si3N4), which make the bearings electrically insulating.
Bearing features
Silicon nitride rolling elements can extend bearing service life by offering enhanced bearing performance, even under difficult operating conditions. When compared to same-sized bearings with steel rolling elements, the benefits of hybrid bearings include:
Protection from electric current damage
Hybrid bearings are non-conductive and therefore suitable for applications such as AC and DC motors and generators, where electric currents are present.
Higher speed capability
The density of a silicon nitride rolling element is 60% lower than a same-sized rolling element made of bearing steel. Lower weight and inertia translates into higher speed capability and superior behaviour during rapid starts and stops.
Long service life
The lower frictional heat generated in hybrid bearings, especially at high speeds, contributes to extended bearing service life and extended relubrication intervals.
High wear-resistance
Silicon nitride rolling elements have a higher degree of hardness making hybrid bearings suitable under difficult conditions and contaminated environments.
High bearing stiffness
With a high modulus of elasticity, hybrid bearings offer increased bearing stiffness.
Reduced risk of smearing
Even under inadequate lubrication conditions, such as high speeds and rapid accelerations, or where there is an insufficient hydrodynamic film, the risk of smearing is reduced between silicon nitride and steel surfaces. For conditions where κ < 1, it is common to apply κ = 1 for hybrid bearing life calculations.
Reduced risk of false brinelling
When subjected to vibration, hybrid bearings are significantly less susceptible to false brinelling (formation of shallow depressions in the raceways) between the silicon nitride and steel surfaces.
Less sensitivity to temperature gradients
Silicon nitride rolling elements have a lower coefficient of thermal expansion, which means they are more stable over temperature gradients within the bearing and provide more accurate preload/clearance control.
Assortment
Hybrid bearings provided in this section constitute the basic SKF assortment and are only part of the total assortment. Other hybrid bearings include:
hybrid super-precision bearings → Super-precision bearings

hybrid super-precision angular contact ball bearings

hybrid super-precision cylindrical roller bearings

hybrid super-precision angular contact thrust ball bearings, single and double direction

hybrid angular contact ball bearings

hybrid stainless steel deep groove ball bearings

bearing units incorporating hybrid bearings
For availability and detailed information, contact SKF.