Bearing arrangements for heavy loads
Lathe spindles are typically used to cut metals at relatively low speeds. Depth of cut and feed rates are usually pushed to the limit depending on the required surface finish. In a lathe, power is normally transmitted to the spindle by a pulley or gears, resulting in heavy radial loads at the non-tool end. On the tool end of the spindle, where there are heavy combined loads, a high degree of rigidity and high load carrying capacity are important operational requirements.
In a lathe spindle, it is common to have a double row cylindrical roller bearing in combination with a double direction angular contact thrust ball bearing at the tool end and a double row cylindrical roller bearing at the non-tool end (
fig. 1
).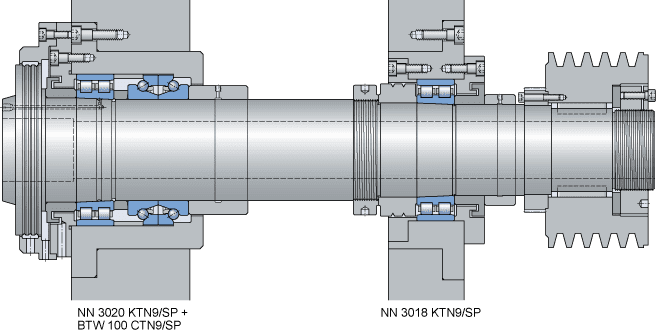 The outside diameter of the thrust bearing housing washer is manufactured to a special tolerance. This tolerance enables the bearing to be radially free when mounted in a housing of appropriate bore diameter tolerance for the adjacent double row cylindrical roller bearing. This clearance is sufficient to relieve the thrust bearing from carrying significant radial load. This bearing arrangement provides a long calculated life and a high degree of rigidity and stability, both essential to the manufacture of good quality workpieces.
A good rule of thumb is to have the distance between the tool end and non-tool end bearing centres in the range 3 to 3,5 times the bore diameter of the bearing(s) at the tool end. This rule is particularly important when heavy loads are involved. For additional information, refer to
System rigidity
.