Bearing arrangements for maximum speed
When sets of angular contact ball bearings are mounted with a fixed preload (without springs), that preload tends to increase when in service due to differential thermal expansion. As speeds rise the significance of this effect tends to increase.
To avoid the damaging effects of excessive preload, particularly in exceptionally high speed applications (A > 2 000 000 mm/min), it is quite common to use angular contact ball bearings preloaded by springs (
fig. 1
). Springs control preload independent of the effects of relative thermal expansion and minimize the amount of frictional heat generated in the bearings.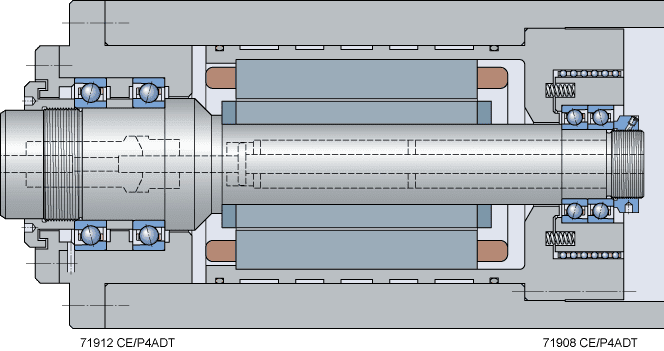 An even better solution than springs is to preload angular contact ball bearings with a hydraulic system. A hydraulic system adjusts the amount of preload according to the speed of the spindle to obtain the best combination of rigidity, frictional heat and bearing service life.