Completely flexible with straight-cut teeth
These couplings (
fig 1
) accommodate a total misalignment of 1° and can withstand start-up peak moments of two times the stated continuous torque.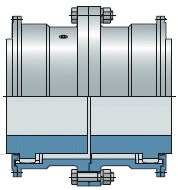 The seals consist of separate steel covers, which are bolted on during mounting; gear inspection is therefore simplified. They centre the outer sleeves on the hubs and are so designed that a large space for the lubricant is available.
These couplings should be lubricated with grease.