Flexible/rigid with crowned teeth
These couplings (
fig 1
) comprise one flexible coupling half, type HCCE, and one rigid coupling half.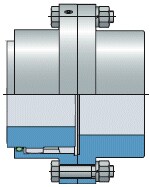 The couplings accommodate a total misalignment of up to 1,5°. Where the misalignment is greater than 0,75°, however, SKF should be consulted. The couplings can withstand start-up peak moments of two times the stated continuous torque.
By reversing the geared hub, the same coupling may be used for different shaft end separations. These couplings should be lubricated with grease.