Calculation considerations
When calculating the requisite guide housing width L, the above assumption should be taken into consideration by using a safety factor. SKF recommends using a safety factor f of at least 2 for operating temperatures up to 80 °C (175 °F). For operating temperatures above 80 °C (175 °F), the safety factor should be increased. However, at temperatures above 120 °C (250 °F), the selection of guide materials is significantly restricted.
The reduced effective load carrying width B of the guide (
fig. 1
) also need to be considered. It is approx. 2 mm
(0.08 in.)
smaller than the housing groove width due to the manufacturing and installation tolerances and the reduction by the chamfers and radii.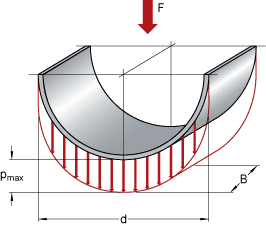 Furthermore, dynamic forces, accelerating forces, vibrations and angular forces should be considered when calculating the transverse forces from the rod ends of the cylinders.
For additional information, contact SKF.