Piston seals with integrated guide rings
These seals are designed as compact sets that incorporate the piston seal and guide rings into one assembly. Typically, they are applied as an all-in-one piston seal solution.
MD-L profiles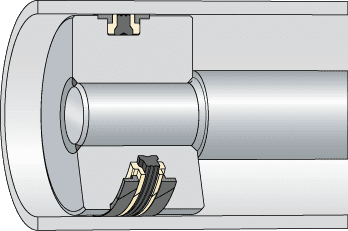 MD-L profiles (
fig. 1
) have a nitrile rubber (NBR) sealing ring with thermoplastic polyester elastomer (TPC) anti-extrusion rings on both sides, which incorporate the polyacetal (POM) guide rings. The guide and anti-extrusion rings are split for easy installation. MD-L profiles are suitable for pressures up to 250 bar
(3 625 psi)
in medium duty applications and are available in metric sizes (→
Size list [pdf]
). Some sizes fit seal housings in accordance with ISO 6547:1981. For additional information, refer to
MD-L profile data
.