Additional design options, SKF Flex seals


HDS1, HDS2, HDS7 and HDSE, also known as SKF Flex seals as part of the CR Seals assortment, seals can be designed with an auxiliary PTFE lip (
fig 1
) to further protect the bearing and sealing lip(s) from dust particles in heavily contaminated environments, for example mining and cement industries.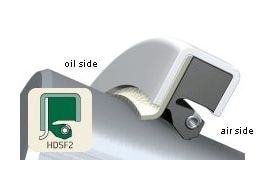 The PTFE lip can also be positioned and directed to provide additional lubricant retention (
fig 2
).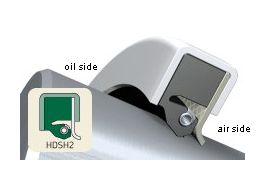 The PTFE lip is clamped between the metal case and the rubber seal body without significantly increasing the total seal width. It has very good chemical and wear resistance, can withstand dry running and contributes to improved sealing performance while only generating a minimal friction torque. The combination of a PTFE auxiliary lip and a sealing lip made of the fluoro rubber compound SKF Duralife, developed by SKF, creates a particularly effective sealing solution.
Special care must be taken to prevent damaging the PTFE lip during installation. For detailed information, refer to the section
PTFE seals
.
HDS1, HDS2 and HDS7 seals (with or without an auxiliary PTFE lip) as well as the HDSA, HDSB and HDSC seals are available with an elastomer applied to the outside diameter for use in applications where bore temperatures reach maximum 100 °C (210 °F) (
fig 5
). This design feature has several important advantages:
Compensates for imperfections in the housing bore surface, improving the sealing performance by minimizing bypass leakage.

Prevents contaminants from entering through gaps between housing bore and the seal outside diameter at, for example, out-of-round conditions.

Minimizes the risk of damage to the housing bore during installation and removal.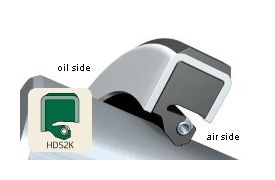 This design option is indicated by the letter K (
fig 6
) in the product name.