Publications

While we aim to make our eCatalogs the most complete and definitive source for every need, sometimes they can't quite replace the easy, all-in-one-place catalog. We offer a diverse line of publications to suit your way of working; if you'd like a print copy, or literature that's not listed here, feel free to contact us. As with any static resource, catalogs and publications may be out of date compared to our live online resources.

Downloads
Catalogs we've currently digitized for one-stop electronic download:

SKF Passenger Car, Light & Medium Duty Truck applications (457205)
This catalog contains non-H.D. application information for SKF automotive seals, bearings and hub assemblies, 2001-2015 vehicles. The catalog contains information pages in English, Spanish and French.
SKF Passenger Car, Light & Medium Duty Truck applications supplement (457205s)

This catalog contains updates and new coverage to the current application catalog (457205).

SKF Vintage Passenger Car, Light & Medium Duty Truck applications catalog (457206)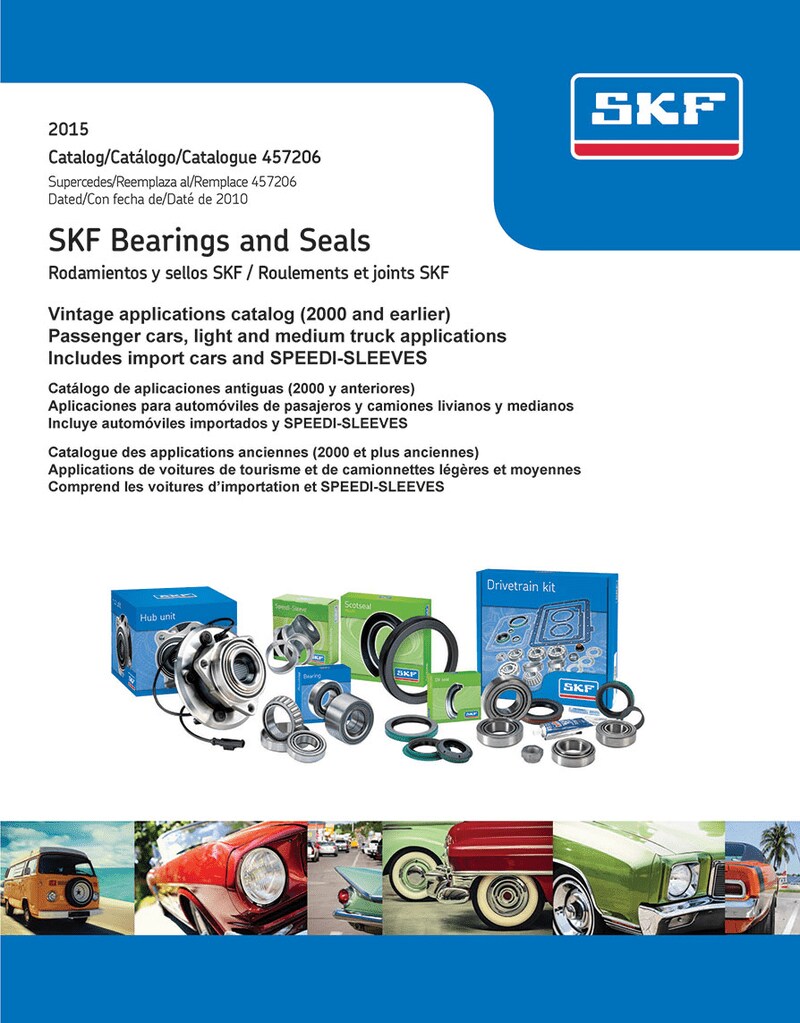 This catalog is the replacement to the (457206) dated from 2010. This catalog covers applications from the early 20th century through model year 2000. Like the current catalog (457205), this publication contains product overviews, procedures, and illustrations to help you find the best SKF solution for your needs.

SKF Heavy Duty Wheel End Catalog (457601)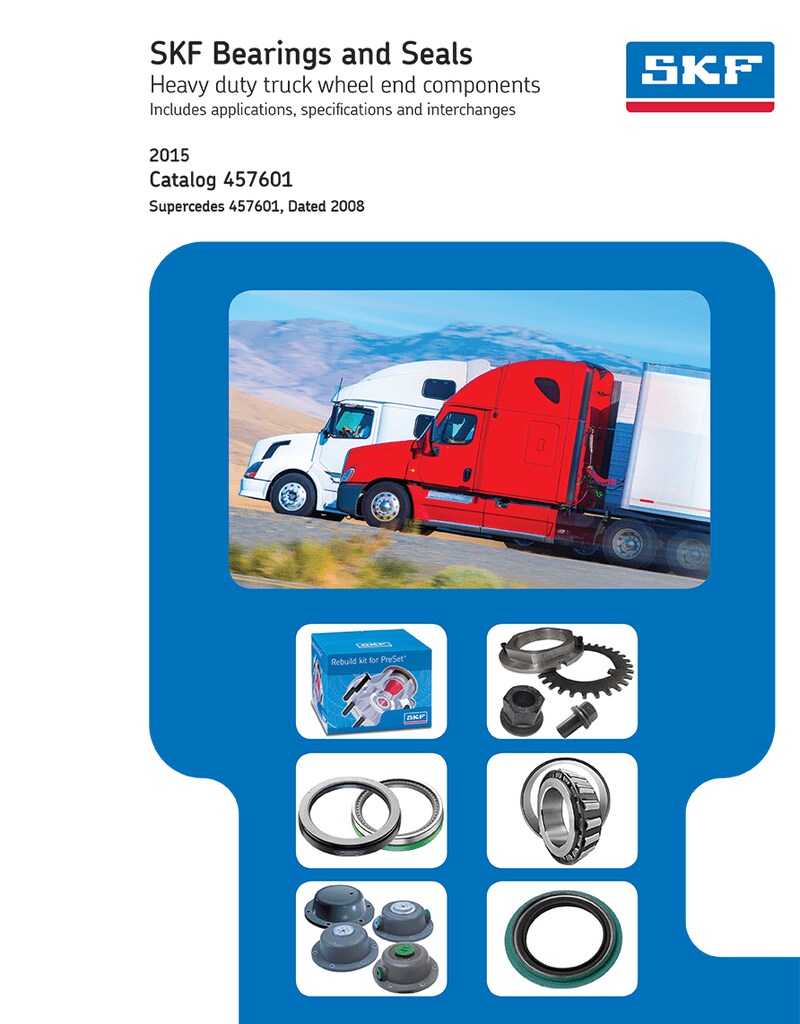 The 457601 Heavy Duty Truck Wheel Applications catalog contains the latest parts, interchanges, specifications and applications for all your heavy duty and medium wheel end needs. The catalog includes Scotseal®, bearing, grease seal and hubcap information for medium and heavy duty truck, trailer, bus and other axle applications. Also included is information on SKF rebuild kits and half stand bearing kits for PreSet® hub assemblies, plus several useful cross references (including a Scotseal family index, specifications, and competitive interchanges). NEW product information included on spindle nuts, two-piece wheel nuts and SKF sleeve nuts.
SKF Differential, Transfer Case & Transmission Kits (457604)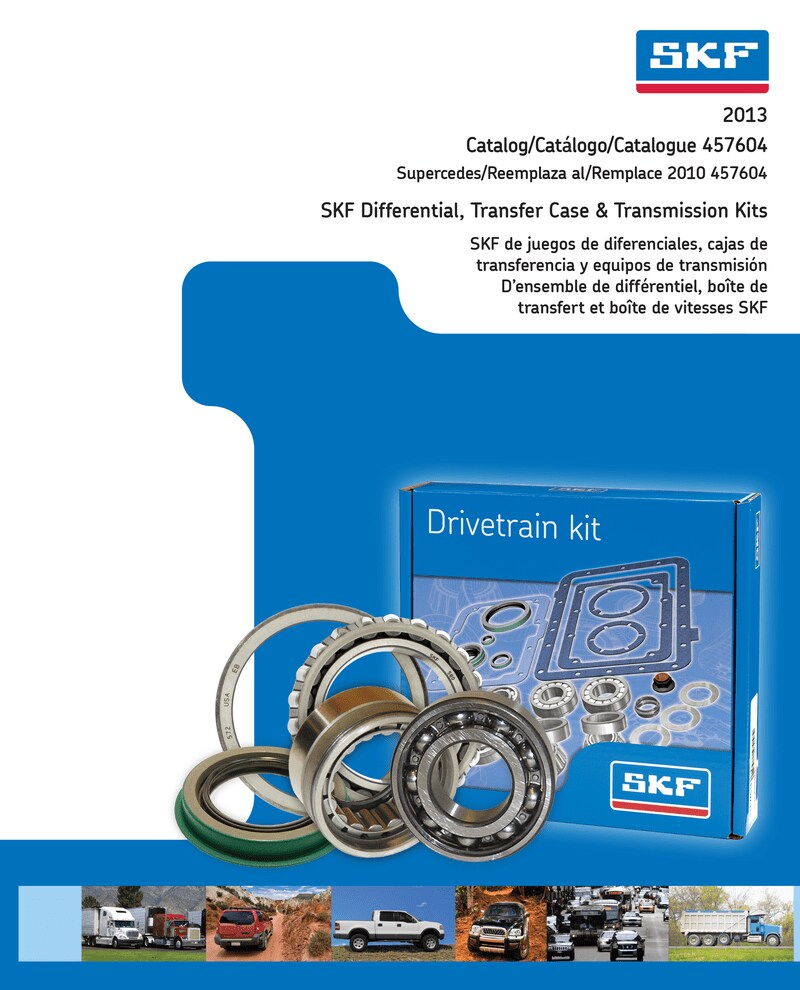 The 457604 catalog contains complete light-, medium- and heavy-duty applications, full contents listings, and detailed information for SKF's new full line of differential, transfer case and transmission service kits. Also included are convenient quick-reference interchanges and HD axle identification guides.
SKF Timing Belt Kits (457702)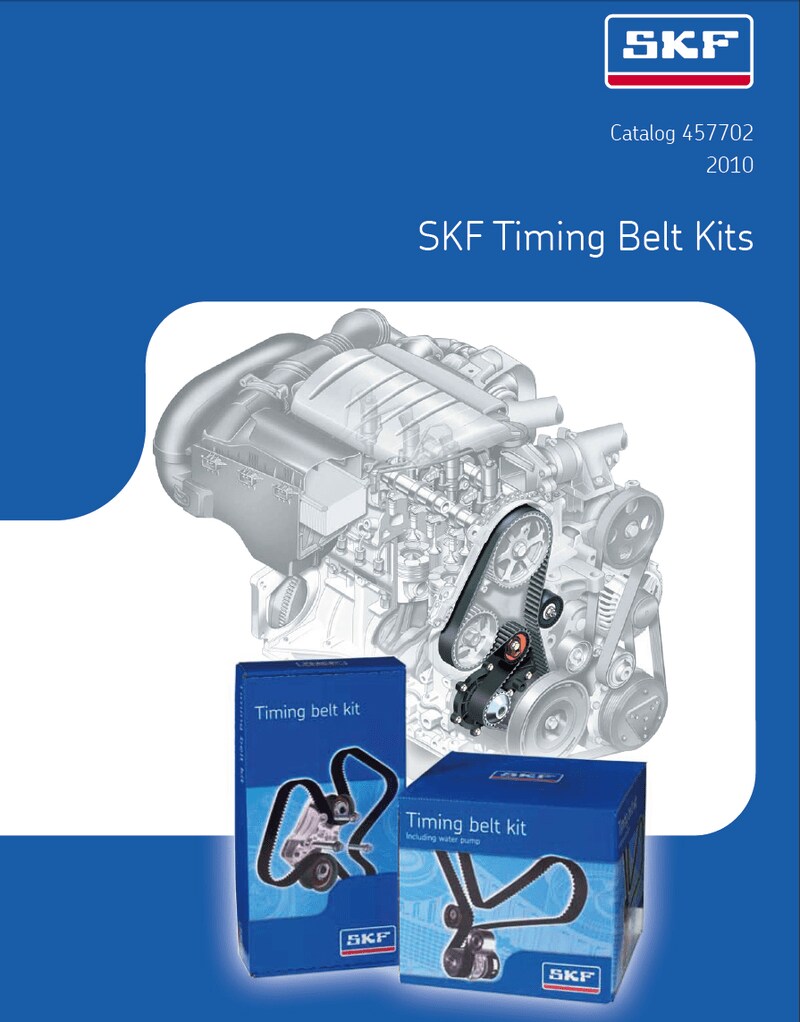 This catalog contains information on SKF's new complete timing belt kits, which include seals, belts, tensioners, idlers and, in many cases, water pumps. This guide and reference contains instructions for installation and repair, application listings, FAQ, failure analysis, and kit contents. With our re-launch of this line, SKF becomes the foremost kit supplier to the aftermarket, and the only supplier to offer every component needed for belt service in one convenient box.
SKF Universal Joints Catalog (457285)

The SKF Universal Joints catalog provides product details, specifications, and applications for our line of universal joints, including type drawings and dimensions. It also covers the most up-to-date applications for passenger cars, light-duty, medium-duty, and heavy-duty trucks.
SKF Universal Joints Agricultural and PTO Application Catalog (457585)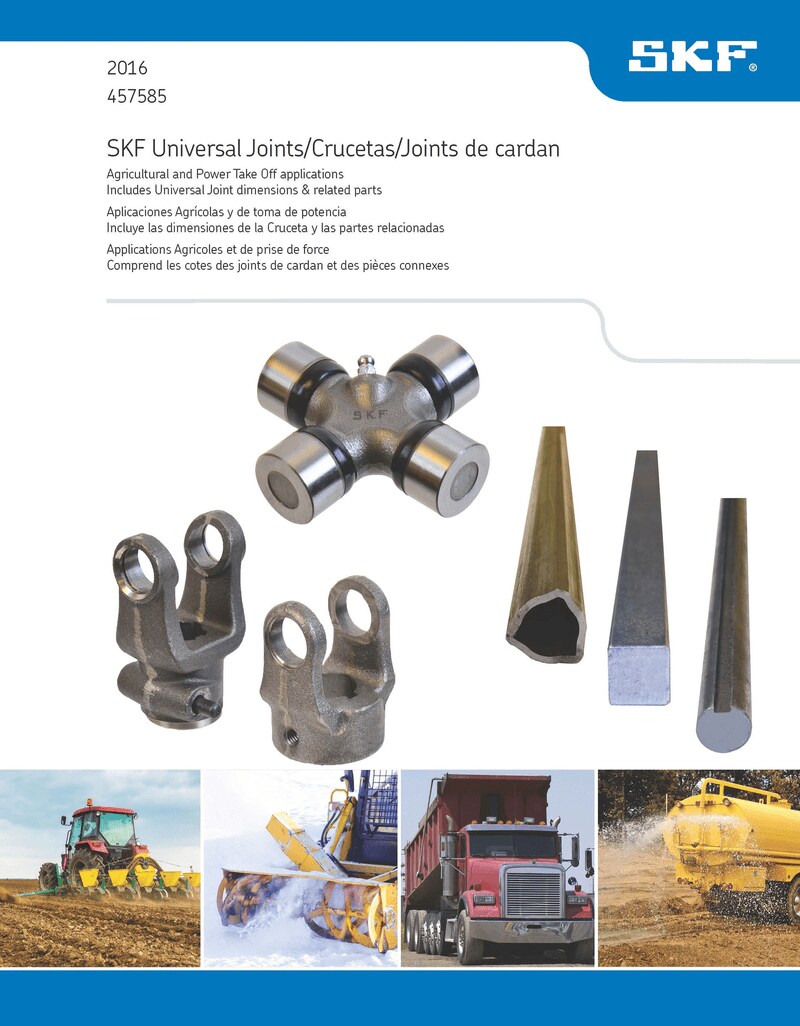 The SKF Agricultural & Power Take Off Universal Joints catalog provides product details, updated specifications, competitor and manufacturer interchange guide. Easy access to all information located in one book combining standard & metric listings for your agricultural applications.