Six steps to best in-class maintenance benchmarking

For many years, benchmarking has been a widely recognized business practice to research ideas, methods, practices, processes and implementing their best features. Here's how it can make a true difference for the success of maintenance efficiency and effectiveness.
While we enjoy having our machinery up running – the maintenance of it has not always been the most popular nor well-prioritized part of manufacturing. Back in time, it was a common practice to wait for equipment to fail, and then repair it. Over the decades, this standard way of working – and thinking – has slowly begun to change. Most companies today have implemented some kind of preventive maintenance program, while the best have made the complete shift from traditional or repair focused – maintenance activity to what we call a proactive maintenance process that is fully integrated into overall plant activity – and this is for a good reason.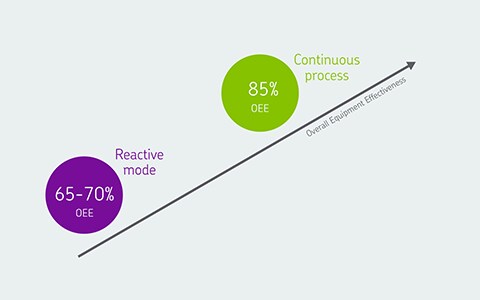 As visualized above, plants that operate in a reactive mode have an Overall Equipment Effectiveness (OEE) of approximately 65% to 70%, with maintenance costs of 4 to 5% of replacement value. For comparison, word class plants engaged in batch production achieve around 85% OEE. These high performance levels are feasible with a maintenance cost of 2 to 4% of Replacement Asset Value.
But what is it that makes these companies perform better than many of their competitors? How have they found the key to higher plant maintenance efficiency? In most cases, the answer to these questions is their adoption of best practices based upon well-documented benchmarks.

Benchmarking as a tool for improvement of business process
Benchmarking is a very powerful tool for improving any business process, including those associated with plant maintenance. It represents the continuous procedure of measuring one's products, services, and practices against the toughest competitors or industry leaders. It focuses on constantly improving any given business process by exploiting top-notch approaches and finding, studying and implementing best practices to provide the greatest opportunity for gaining a strategic operational and financial advantage.

How it works: The Benchmarking Process
The benchmarking process comprises of the following 6 steps:

1. Know yourself
At first it is important to understand the various processes and objects that comprise the activity under the study. The people who do the job as well as suppliers and eventually customers can provide constructive input that will gain the overview and understanding necessary. Techniques such as mind mapping/ brainstorming, information flow diagrams etc. can act as useful techniques to collate the information.
The most important take out of this initial step, is to facilitate identification of relevant critical success factors, which then can lead to identification of KPI's (key performance indicators). These metrics can then be used in comparison with other organizations to monitor the effectiveness of improvements initiated.

2. Know others
Once armed with a good understanding of what you currently do and how you perform, the investigation looks outside your organization to compare your process with similar organizations. This aspect of benchmarking requires considerable research. Information databases (fx DIALOG) can be a great asset in this part of the process, by offering a medium through which best practice partners may be identified and contacted. Trade journals are another useful source of information, as benchmarking articles are frequently featured in many maintenance journals. Many journals offer the opportunity to browse back issues online, and their site search engines make locating relevant information relatively easy.

3. Know what good looks like
Best practice benchmarking potentially brings the greatest gains in terms of process improvement. Joining a benchmarking consortium, where a number of organizations interested in studying the same process come together and share the cost of the study, can in this context be advantageous. This approach is especially gaining popularity among benchmarking target companies who then only have to deal with one team.
It is not always of significance to benchmark against world's best to gain great improvement of your tasks and processes. If the gap between your current status and the best in class company is too great, then it can be a daunting task and impractical approach. In these cases, a more incremental approach is recommended.

4. Know the difference
Once you have identified the best in class company to benchmark against and collected the information necessary – then it is time to analyze and review all your data. As some of the collected data may prove to be irrelevant, data filtering can be of huge advantage.
While it tends to be relatively easy to draw comparisons from hard objective data, subjective data such as corporate culture, management style, personnel motivation etc. tend to be less straightforward to analyze. Tools such as process mapping and fishbone diagrams can help to make sense of these data sets.
Once both the quantitative and the qualitative data sets are in place the next task of your project team will be to analyze the difference between the collected data and the performance of your organization. This is well known as Gap Analysis. If the performance of your business exceeds the performance of the company you benchmark against, then there is a positive gap. On the other hand, if the data shows that you underperform compared to your benchmark then there is a negative gap.
Establishing the size of the gap can provide you the information to evaluate the potential value of eventual improvements, while looking at the reasons for the difference identifies improvements to be made. This is the first step toward estimating improvement cost.

5. Know the way forward
At this point, you should be in a position to investigate and prioritze the best way forward and start to prioritize the improvements that need to be made.
Once the action plan is in place, KPI's need to be identified, and improvement targets agreed upon. It is recommended that the targets are:
Challenging, yet realistic

Fixed and measureable

Aggressively timetabled

6. Know how you did it
If you have ensured to document your benchmarking process properly, your organization has the chance to learn from the experience and repeat the process.
Sometimes, the improvement of one process serves to show up other organizational weaknesses; thus a successful benchmarking exercise may result in associated studies.
There is no quick – fix method to improve maintenance efficiency; best practice is a moving target. Therefore, benchmarking needs to be seen as yours and your organization's commitment to continuous process improvement. In doing this you can become the company your competitors want to benchmark up against.