Using mobile technologies to drive maintenance and operational efficiencies
Cutting costs, improving operational efficiency and doing more with less are just some of the key objectives of all maintenance engineers and operations managers. The good news is that all of this, to a great extent, can be achieved by implementing mobile technologies into your everyday work life.
Mobile technologies possess enormous potential for industry. Not only because mobile devices are almost always at hand whenever they're needed, but also because they can allow you to execute a broad variety of tasks with just a few quick taps.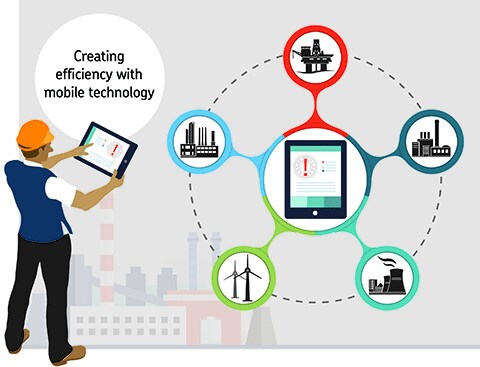 The challenges of traditional maintenance
Working on the factory floor, one of the most common problems is accessing necessary information right when you need it. Often this issue arises during emergencies or in the moments preceding them.
User manuals, maintenance guides and troubleshooting documents are frequently stored in either paper form or on a desktop computer in the corner office at the other side of the factory.
Another common challenge is communication on the factory floor. How can you connect with the right colleagues, possessing the right skills to help you solve a machine problem? And, if they're not in the same department or office as you, how can they help you problem-solve? You can't be in two places at the same time.
The last major issue is recording and auditing. Relying on paper-based forms or static computer systems to record inspections, which then need to be saved on a desktop computer or stored otherwise, is a time-consuming process. The information can be difficult to retrieve when it is needed. Access may be limited, filing systems may be poorly organized and files themselves may be lost entirely.
The opportunities of mobile technologies
Integrating mobile technologies into your maintenance tasks and practices can help your factory run more smoothly and efficiently.
How?
Imagine having maintenance guides, troubleshooting manuals and documents right at your fingertips. Engineering materials can be quite extensive, but mobile technologies and apps can make it easy to search for specific solutions, without having to sift through hundreds of physical papers.
One example of mobile technology is SKF Shelf. This app is an easy way to access any information you might need right from your smartphone or tablet. It lets you search and fetch SKF brochures, find best practice information and organize it all however you like. This way, you can avoid running back and forth from office to office trying to find the right piece of paper and/or scrolling through thousands of pages just to locate the necessary information.
Another example is SKF Data Collect – an app that enables mobile devices to connect to wireless sensors, collect plant data and easily access remote expert services to help companies, or their service providers, monitor and maintain machinery. The app helps improve data quality and consistency, and provides fast access to actionable information.
See an example on how SKF puts mobile technology in action every day.
Like to learn more about SKF apps available to improve your maintenance and machine reliability? Access our full app library here.