SKF four-point contact ball bearings

Robust materials and design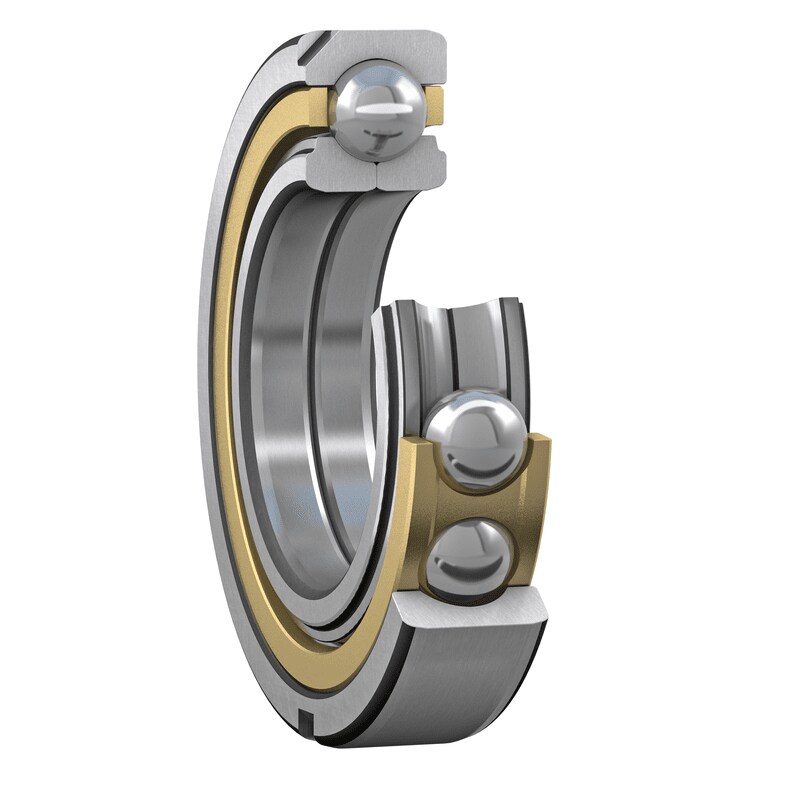 SKF four-point contact ball bearings feature a number of optimized design innovations that enable them to run longer and more reliably, while reducing heat, noise and vibration levels.
SKF four-point contact ball bearings have undergone a unique SKF heat treatment to provide outstanding strength, stiffness and wear-resistance. An improved brass cage is lighter, to reduce inertia forces and provide better ball guidance. Lightweight PEEK plastic cages with the durability and performance of brass cages are also available.
A shoulder recess on the inner ring of the bearing facilitates dismounting, provides additional lubrication improvements, and a redesigned raceway shoulder transition makes the bearings capable of carrying increased thrust loads.
Compressor advantages
The recessed shoulders of the inner rings also keeps operating temperatures significantly cooler than conventional bearings. The optimized inner ring cross section improves stress distribution and minimizes ring deformation after mounting. During mounting procedures, laser markings on the bearings help prevent component mix-ups and help ensure that bearings are mounted in the same position as originally manufactured.
Extend bearing service life

Handle heavier axial loads

Cut lubricant consumption

Reduce noise and vibration levels

Reduce heat generated by the bearing