Heavy duty diesel engine sealing solutions

Greater reliability for engines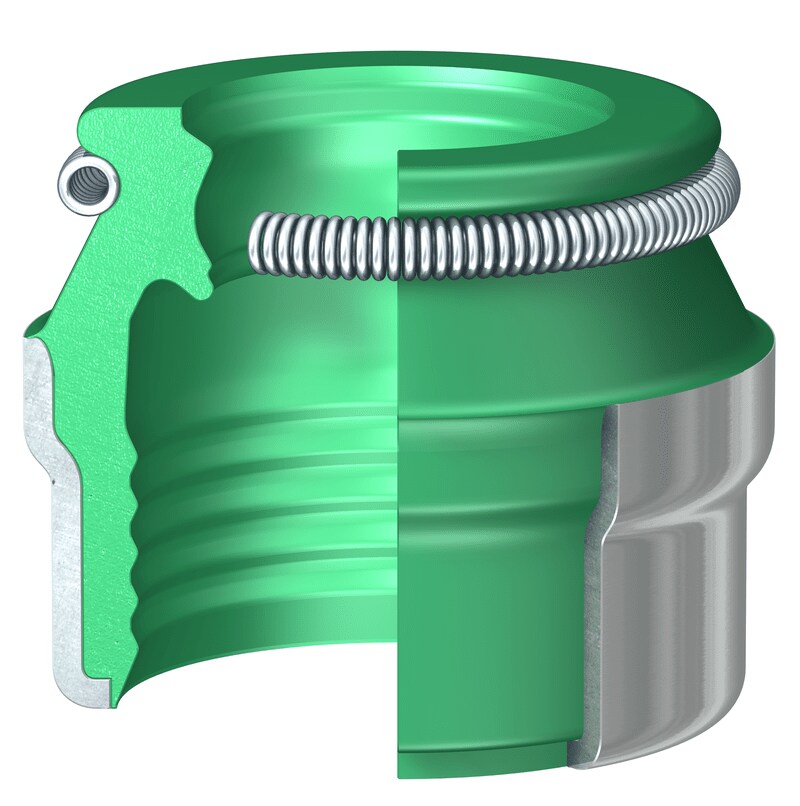 Ideal for eliminating the severe contamination common to construction applications, SKF sealing solutions include a range of conventional rubber shaft seals, PTFE shaft seals and special designs.
Radial shaft seals
SKF dynamic radial seals come in various configurations and rubber materials. The seal can have multiple lips that not only seal in lubricant but keep out contaminants. The various rubber materials are configured to provide optimal performance in various conditions such as high temperature, lubricant compatibility, and performance in an aggressive contaminant environment.
SKF valve stem seals
SKF offers valve stem seals that ensure low engine emissions and adequate valve guide lubrication, plus a range of high-performance, cost-effective solutions for standard applications.

High-pressure valve stem seals
Improve the quality of emissions and enhance engine operation by withstanding high pressures in the exhaust and intake ports of the engine, while maintaining their primary function as an oil-metering device.

Available applications
All engines with high pressures in the manifolds, e.g. because of high power turbo chargers or for exhaust brakes on commercial engines. SKF offers new designs of high-pressure valve stem seals, providing minimized guide wear and cost savings in the engine blow-by management:
Lower risk of valve stem scuffing and guide wear as oil lubrication remains stable under pressure

Reduced blow-by gas volume as the seals do not allow air flow to the top of the cylinder head

Capacity of oil separation in blow-by gases can thus be reduced

Hence cost savings in the blow-by oil separation system
The seal design can be tuned to provide the optimum oil-metering rate for the application and can be supplied with or without an integrated spring seat. Other design characteristics of the pressure valve stem seal allow for dynamic sealing abilities:
Patented independent pressure lip allows the main lip to function under high pressures for consistent oil metering

Reduced risk of valve stem scuffing and guide wear as oil is not "blown" away from valve stem under pressure

Special static seating design avoids popping-off under pressure – a groove is required in the valve guide

No blow-by gas leakage through seal
Through extensive experience, SKF has become the European market leader, creating the most effective product with the following advantages:
Developed to specific customer requirements or use of standard seals

Excellent chemical and temperature resistance

High reliability

Low wear

Long-term emissions control

Consistent oil metering and long life